CoreFit: a broadcast 4.0 application-inside-publishing model
This is the age of the Internet of Things and the so-called 'wearable' technology device, this much we already know.
This is also the age of online news, the Amazon Kindle (other e-readers are also available) and a digital publishing shakeup that sees the old school 'Broadcast 1.0' model of media consigned to a quieter (but still appreciated by some) life. So just for the record:
• Broadcast 1.0 — users consumed media (from TV to magazines to newspapers) when they were available at a time set by the networks and publishers.
• Broadcast 2.0 — on demand programming and the Internet arrived; we could consume what media we wanted, whenever.
• Broadcast 3.0 — in the third age of media we plugged in 'social' and this meant we could consume what we want, when we wanted it, but (and here's the crucial difference) we started to select media based upon the recommendations of others in our trusted personal circles.
Broadcast 4.0
If there is a fourth age of media — or a broadcast 4.0 to extend the analogy — then it could be the coming together of media channels with the software application development space.
Yes obviously publishers often have their own 'app', which individuals can use to access content (some on subscription, some not) and these can provide quite interactive experiences. But the next level is just one step further.
CoreFit is a venture capital stage startup based in the UK.
NOTE: The firm is currently actively seeking investment to expand the brand into the UK and America after launching in Spain in 2014.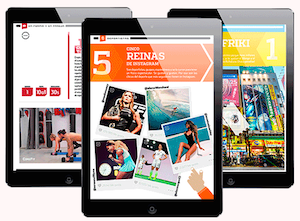 The firm's market proposition is intended to be seen as an advertising and publishing content integration platform — and a software application in its own right. CoreFit describes a kind of broadcast 4.0 world where its technology is used to provide content targeted at male and female millennial sports and fitness enthusiasts — but with additional 'application functionality' integrated into the content that is delivered.
So in terms of usage, how would software developers align application design to be empathic of the needs of an individual user?
"CoreFit integrates advertising from commercial vendors with what is relevant magazine-style health, sports, fitness and lifestyle content for its readers. What this means (and some of this technology is still in the embryonic stage) is that a user could access all of his/her favourite fitness content — then, connect, integrate and cross-reference that content with data tracking their own physical wellbeing," said Nathan Berkley, director of strategic content for CoreFit. "The end result being content, advertising and even other application suggestions that correspond with not just who the user is, but how their body is performing as well."
How it works (out)
The application itself is free to download on the Google App Store for Android and the Apple Store for iOS, but the firm will (obviously) target other platforms in the long run.
As a company, CoreFit explains that it does not own the technology platform underlying its model — what the firm brings forward is the integration, the upper presentation layers, the health & fitness publishing expertise (the team has a specific track record in print) and what is effectively an avenue to allow software developers to work with extracted user-generated data that is of personal importance.
"Technically speaking, CoreFit first looked for a platform that it didn't own in terms of IP ownership… but one that has the potential to finally close a gap and deliver what we call a pure-play digital magazine application experience that isn't tied down by the constraints of a big brand that is still following its print edition," explained Berkley.
The application itself features interactive content covering topics from fitness news and trends, sportswear and technology innovation to nutrition and diet plans. It also includes interactive workouts tailored to an individuals' activity types and goals. There are also sports, fitness and lifestyle articles.
What developers should think
"What we are saying to developers is that here is a platform to create a tailored interactive reader experience that can be fully enjoyed on both smartphones and tablets. There's a new 'intersection' point here where the Internet of Things, wearable fitness tracking technology and the ubiquity of connected devices can meet personalized content inside user applications. Programmers should think of a new breed of application that has arguably even greater device-to-user proximity than even email perhaps," said Berkley.
This is not a fitness application that you use alongside a fitness magazine; this is a fitness application bridging the divide between an app and a magazine, with enhancements for readers to interact with the content. CoreFit agrees that this a model that could suit some other industries, but personal health shares a special suitability here and is of course the fastest growing area when it comes to wearable technologies.
"Digital magazine publishers absolutely must move on from the print mindset and monthly format in order to create content-rich, engaging experiences in line with other app models – Spotify, iPlayer, YouTube, Pinterest and so on. Whether the user dips in for five minutes every day, or perhaps once a week for a longer form read – the experience must be fluid, customisable – to a point – and fresh," said David Hicks, digital product consultant at Hicks Digital.
The problem with a monthly digital publishing model is that in 99% of apps, the app 'library' or the first screen seen, never changes – and the lack of value that a digital subscription within this model provided to the customer. I've always thought that an 'aggregator' app experience free of pop-up advertising and consisting of a user-specified choice of publishers, brands or stories is the way forward – and one that crosses over subject matter and country boundaries – and consistent on all devices," added Hicks.
CoreFit is currently available in Spanish and is intending to launch in the English language inside of 2015.