Checking (cloud) backups with BackupChecks
We all love the cloud computing model of service-based IT delivery, obviously… but what about backup and failure scenarios?
There is a palpable sense of the cloud market now laying down more cloud backup technologies.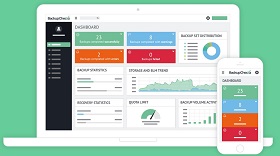 Indeed, this week sees the Asigra Cloud Backup Partner Summit 2015 in Toronto.
If you weren't familiar with the term… DRaaS – disaster recovery as a service, then now is the time to fix that.
TechTarget defines DRaaS as the replication and hosting of physical or virtual servers by a third-party to provide failover in the event of a man-made or natural catastrophe.
At the Asigra event itself today we find the launch of BackupChecks from Databarracks.
Peter Groucutt, managing director at Databarracks, says his team has been developing this software for the last seven years.
"The features of the software are three-fold. A service desk, a reseller management portal and a customer management portal. The most obvious benefits are seen in the Service Desk, which allows technicians to manage all of their backup accounts through a single portal. The dashboard shows engineers all of the errors to be checked across all accounts at a glance, any recurring issues, the amount of data stored by each account and information to help services providers manage their DS-Systems," said Groucutt.
BackupChecks automates the daily management of backups so, in theory, backup engineers have more time then to provide more support to their customers.
They have the tools to have helpful data reviews with customers and give advice on best practice from other customers and their internal knowledge base.
"Through the portal, customers have access to all their vital backup stats, such as how many backups have been successful, how many restores have been made and how much data they are storing. Customers can log in to a simple portal on their mobile on the way into the office to check on their overall backup health and then log in on their desktops for a more comprehensive view to really drill down into the details and their historical backup and recovery trends," added Groucutt.