CA World: MDM is the only way for mobile
CA World this week sees the company push harder than ever before towards the mobile space.
More specifically, the firm is augmenting its Mobile Device Management (MDM) stack to the point where it says it will be capable of taking "an unmanaged device to a managed device" in 90 seconds using SAP Afaria technology for deploying, securing and maintaining devices at the enterprise level.
The only way is MDM (for full utilisation and orchestration of mobility)
The firm says that today, the only way to manipulate mobile devices (from smartphones to tablets to whatever comes next) is to implement MDM (for full utilisation and orchestration of mobility) on every device in the business.
This week's news sees CA announce new MDM software that tackles the modern mobile problem as we see it today i.e. the need to embrace mobility and ensure the security of enterprise assets.
This means dealing with the "proliferation of heterogeneous devices" and the diversity of managing different of mobile platforms.
But the biggest challenge may be the most simple one …
… making applications 'mobile-ready' in the first place.
Conjoined and concatenated
CA Technologies GM for new business innovation Ram Varadarajan says that MDM must be conjoined and concatenated with technologies that also enable mobile application management (MAM), mobile content management (MCM) and mobile services management (MSM) — oh yes, Mobile Application Acceleration (MAA) is in the mix too.
So then, for mobile MDM "transformation" we can state the following:
MDM = MAM + MCM + MSM * MAA
"Our customers are looking for us to provide essential technology solutions to take advantage of the mobile opportunity. After thoughtful evaluation, we have licensed the proven and market-leading SAP Afaria mobile device management solution to provide this capability to our customers and serve as a key component for us to build other solutions," said Varadarajan.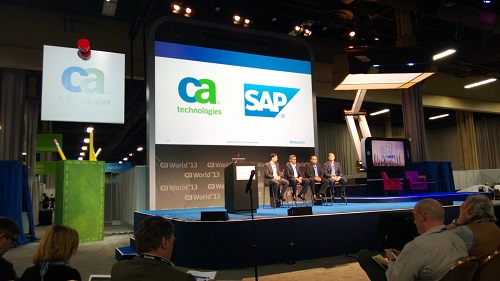 As a piece of software, CA MDM is delivered in a software-as-a-service model or as an on-premise solution. It positively "enables a BYOD strategy" says the firm by providing a self-service enterprise app store with automated IT management. This is, to lapse into "vendor speak" for a moment, all about so-called real-time insight into mobile device status and usage.
In basic terms please?
Basically, we're talking about automated device enrollment, configuration and decommissioning.
"SAP has had tremendous success partnering with CA Technologies to help our customers further secure and manage SAP solutions within the enterprise," said Sanjay Poonen, president of technology solutions and head of the mobile division, SAP. "By choosing SAP Afaria as a key component of its mobile strategy, CA Technologies is now equipped with the industry's leading enterprise mobility management solution, which will play a critical role in transforming the role of IT management."
CA is also attempting to push forward in the area of mobile payments with incubation projects focused on payments with mobile devices and mobile wallets, CA Technologies is clearing the path for new, future transactional models to drive business growth.
"A key differentiator in CA Technologies solutions for enterprise mobility is the ability to facilitate the transformational shift in the mobile marketplace that is centred on APIs and their importance for accelerating mobile application development and delivery, externalising core business assets and driving new revenue channels for business growth," said the company, in a press statement.
Part of the rationale for making this happen is CA's acquisition of Layer 7 Technologies this week.
CA Technologies will offer secure MAA (remember that was Mobile Application Acceleration) and access by seamlessly integrating and managing mobility initiatives across backend systems, security and infrastructure.
By incorporating Layer 7 solutions into its portfolio, CA says it will will connect to existing application environments; enable third party developer networks; and secure and govern API usage.
In terms of products here…
In terms of products here, CA AuthMinder, CA RiskMinder and CA CloudMinder Advanced Authentication help reduce the risk of fraud with enhancements for transactions on mobile devices. CA DataMinder helps secure collaboration for mobile users with data-centric security for mobile messaging and file sync and sharing – -and CA SiteMinder helps improve mobile user engagement and productivity by providing single sign-on for mobile or web applications to manage user access and security.
Security, like other IT management functions, is a must-have across any computing paradigm — from mobile to the mainframe — and this is the mantra that we will hear from firms including CA and others going forward.