Box: business tools are broken, content needs resuscitation
This week's BoxWorks 13 has seen the firm put out an increasingly confident set of messages to explain where its secure content sharing platform is going.
But first a question: what is a content sharing platform if it's not just a cloud storage service?
The firm sent out details for this week's activities to certain attendees' own Box accounts (you can get 10 Gig free or sign up for 50 Gig) as a Word document.
But this is a Word doc with the option to comment and list messages upon it. This is a Word doc that shows members of a designated collaborative work group that any user can connect to. This is a Word doc that will send alerts to logged in users as and when any updates are posted to it. This is a word doc that will ultimately enjoy metadata enrichment so that we know information about the information within.
This is not just a Word doc anymore then.
But how will this benefit business?
Box CEO and co-founder Aaron Levie sees a channel for end users to adopt this kind of technology virally (that's why the basic account is free) and this if you like is stage one in terms of putting new tools in users' hands.
Levie asserts that traditional business tools are essentially broken.
Legacy tools, he says, (including those from as recently as the last decade) do not fit the way we work today and have essentially overshot how users want to work — but Levie sees a way to "retrofit" existing older technology towards new tools.
During a breakout session Levie told press, "The problem is that enterprises today have a) either high-level consumer tools that do not integrate well with the deeper level backend enterprise data backbone… or they have b) deep enterprise tools that are hard to use. What we want to do is bridge and balance between these two worlds. The Holy Grail is making this happen and providing a route for the right metadata to be also incorporated."
The company's freshly launched Box Notes tool bids to get some way to the new world of content usage — it is designed to provide a lightweight editing interface to create content and facilitate collaboration directly on Box.
NOTE: Box is currently accepting sign-ups for a limited private beta.
"From day one, our mission has been to make it incredibly easy to store and share information," said Levie.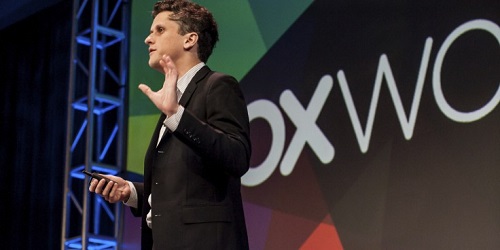 "As business becomes increasingly fast-paced, fluid and mobile, the very nature of information is changing, and the tools businesses use to capture that information need to evolve. To unlock the collective knowledge of organisations, Box needs to not only be a place where people can store and share content, but also a place where they can create and capture ideas in real-time across teams."
The firm is NOT setting out to replace Microsoft Office or create the next game changing word processor – it is instead trying to convince us that real time concurrent editing and in-line toolbars and annotations should be a part of the way we use information tools.
For example, the Collaborator Presence/Note Heads function allows users to see who is collaborating on a Box Note in real-time with a user profile picture that follows your cursor in the left hand side of the screen, letting your colleagues easily see where you're working in the Box Note.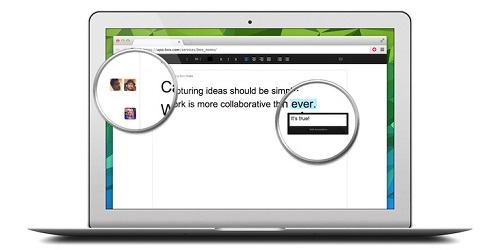 There is security here in the form of "sophisticated" data encryption and advanced account settings.
There are also rich media embeds i.e the ability to drop in rich media such as videos, images and audio and also offline editing to update a Box Note so that changes will be automatically synchronised the next time a user connects online.
Broken business tools may be too strong and another case of Levie playing to the crowd — he's good at that.
To state that business tools need cloud-empowerment is more of a certainty and Box is challenging Google docs, Dropbox and Microsoft Office 365 in this space in a maverick fashion. The proposition to code to these "new" platforms is our next point of focus and you will hear more of this from here in.