Box World Tour: content as-a platform in a modern IT stack
Box CEO Aaron Levie brought his travelling band to London this week for the UK leg of his firm's annual Box World Tour.
In case you need reminding, Levie's core ethos hinges around the proposition that firms should have just one 'content system', allow us to explain…
This assertion is put forward on the basis of the fact that so many firms have one single ERP, CRM or financial system – yet, they have so many different (often very disparate) content systems from email to chat to documents and so on.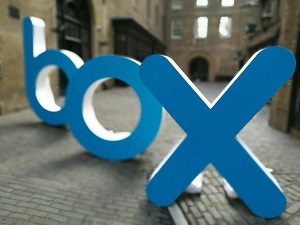 Changing workflow
Levie is passionate (and usually quite amusing) in his keynote delivery – indeed, he started off this year's event with an apology on behalf of America for Donald Trump.
But back to the content argument, Levie calls out the four megatrends that are changing the way we work:
1. Mobile is so very ubiquitous
2. Connected business processes are now more collaborative and social –
3. Digitisation is changing every single industry from high tech firms down to construction, automotive…. And onward to life sciences, law and other verticals that may not firm come to mind
4. Cyber security — US$400 million dollars a year is lost due to cyber attacks and these are happening in the face of new regulatory challenges, which are slowing down the new business processes we are trying to bring online
Moving to a 'modern' IT stack
Where analogue model process-orientated business systems used to form the bedrock of business, we now move to a place where analogue is being replaced by digital — this, essentially is what this so-called business transformation switch is all about.
The firm's partnership with a variety of other vendors hinges around trying its work to provide a route to be able to use these other technologies natively, but, crucially, on the Box platform. What this means is the ability to be able to Salesforce on Box, Slack on Box etc.
Strengthening the story
The future for Box is one where governance is strong (the firm launched its dedicated Box Governance product last year) and there is also encryption key functionality here too.
The firm has also rolled out an 'accelerator' technology, which is intended to help the platform perform better when used on an international basis.
In terms of new product announcements from Box, the firm has announced plans for its Box Zones. The concept here is down to being able to separate the application itself from the infrastructure upon which it runs – the firm is separating this out over: USA, Ireland, Germany, Japan, Singapore.
Box Zones aims to provide enterprises with the choice to store data regionally across Europe and Asia.
According to the firm, Box Zones will help businesses centralise critical content and enhance productivity, while addressing local data storage requirements.
NEWS BITE: By using Amazon Web Services (AWS) and IBM Cloud, Box Zones will allow content in Box to be stored in Germany, Ireland, Singapore and Japan based on customer needs. Box Zones joins services like Box KeySafe and Box Governance as the latest way that Box provides customers with choice and flexibility in how they deploy Box.
"Businesses today are more connected, collaborative and global thanks to the power of the cloud," said Aaron Levie, co-founder and CEO of Box. "Yet for many companies, local laws and regulations have forced them to make technology tradeoffs that limit their success and place a drag on employee productivity and collaboration. Box Zones will help power digital transformation for enterprise customers across Europe and Asia and accelerate our international presence."
Moving workloads
"If you are tied to a legacy technology implementation then you can not innovate new business processes," said IBM's cloud lead Robert LeBlanc, speaking at the Box London event.
"As enterprises turn to cloud as an innovation platform, data is at the center," added LeBlanc. "Box Zones on the IBM Cloud, with new technology from the recent acquisition of Cleversafe, will provide a platform for clients who prefer to store data in country for performance, security or other advantages. We look forward to expanding our partnership with Box and helping serve clients in Europe and Asia through our network of IBM Cloud Data Centers."
It's all about being able to move data workloads to the place where they are most functional, fastest, most responsive, most secure and within the correct governance and compliance restrictions.
The other factor to thing about is… fighting complexity.
Complexity is increasing i.e. application breadth is getting more complex, cognitive computing is becoming more complex and everything from software-defined networking through the backoffice is becoming more complex… the crucial point is NOT getting that complexity to show up in the software that the users use themselves.
Is Box working?
The firm points out that Today, more than 57,000 businesses, including 59% of the Fortune 500 use on Box for content management and collaboration.
Multi-national businesses like Amadeus, AstraZeneca, Eli Lilly, General Electric, P&G and Schneider Electric are all listed as Box customers.
The firm is clearly building out its platform relatively intelligently — in many ways the Internet is all about CONTENT (data in its many forms), so Box has put itself in a good position for development since in the inception of the Internet.
There is more to come in this stream… and it's all content.