BlackBerry DevCon Europe 2012, effortless new user paradigm or same old same old?
Research In Motion's (RIM) developer proposition has been brought to a simmering boil this week with the staging of its BlackBerry DevCon Europe conference in Amsterdam.
Watching the 'livestream' from the Dutch capital online… RIM appears, arguably, somewhat refreshed this week, sporting a selection of industry partners and a new CEO in the shape of the affable if somewhat intensely Germanic Thorsten Heins.
The company has worked hard in recent weeks to improve developer monetisation options and proffer forth an assorted bag of software development tools in areas such as the BlackBerry Messenger (BBM) Social Platform SDK for BlackBerry Java; as well as BlackBerry Theme Studio, which provides a suite of design tools that allow designers and developers to create themes for BlackBerry smartphones.
Was that four BlackBerry's and one "the company" in one sentence? Yes it was.
RIM's Heins pointed to the new functionality on the BlackBerry PlayBook (aggregating social media feeds, emails and other alerts as it does) calling it an "effortless user paradigm", which sounds a lot like 'marketingspeak'… so did he just learn that phrase in English of did he really mean it?
BabelFish translates "effortless user paradigm" as "müheloses Benutzerparadigma", which if you translate it backwards comes out as, "easy user paradigm" — so he may have been genuinely excited.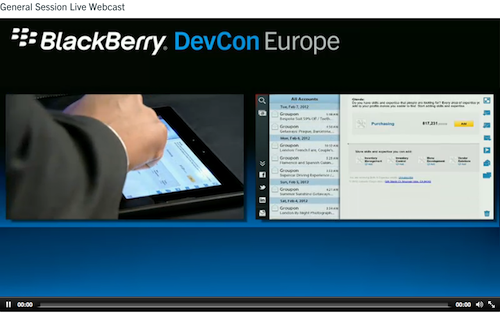 The conference has drawn in 2000 attendees to draw deep on the heady smoke of Amsterdam's technical community this week. This is perhaps a good time to mention that despite recent media-fuelled naysaying, there are now 75 million BlackBerry users worldwide.
What is also important to highlight is the fact that general industry opinion appears to suggest that the BlackBerry PlayBook (with the operating system it now has) may now become the device it was always intended to be — and enjoy an increase in popularity.
Readers may remember that in light of Hewlett Packard's decision to contribute webOS to the open source community, RIM has also been busy highlighting the BlackBerry WebWorks resource, which is also open source. Developers are encouraged to build HTML5 apps for BlackBerry smartphones and tablets with "native-like capabilities" using WebWorks.
RIM executives used the keynote this morning to demonstrate the "simplified process" for building apps for the BlackBerry platform. The team also pointed to C/C++ native software development for PlayBooks – and also BlackBerry Runtime for Android options to port Android apps to the BlackBerry PlayBook
Alec Saunders, VP of developer relations & ecosystem at RIM agreed to have his PR team attribute this statement to his name, "With cutting-edge developer tools, streamlined processes and a high level of dedicated support, we're making it easier than ever for developers to enjoy a strong experience developing for the BlackBerry platform and to effectively monetise their offerings."
So is RIM getting it right now?
It's hard to say whether RIM is getting it completely right. It is getting it a whole lot "righter" though and with six million app downloads per day something must be going right. For example, Yankee Group has said that BlackBerry users download more paid apps "on average" than Android users do.
Given this rise of Android one might assume that this situation will change; but if it allows RIM to form some stronger bedrock under its foundations as it sorts its house out, then this is surely no bad thing for the industry or users alike?
According to RIM, "Attendees at DevCon Europe will also learn more about the BlackBerry 10 developer roadmap and how this new operating system will open up even more opportunities for app developers. BlackBerry 10 combines the best of BlackBerry OS and QNX, offering developers a single, converged platform, built from the ground up."
Note: QNX is a mobile operating system that was originally developed for embedded systems. The operating system's developer, QNX Software Systems, was acquired by Research in Motion (RIM) and the OS adapted for use in the BlackBerry Playbook tablet
RIMs groundwork in terms of alignment to HTML5 will now be crucial. The company says that already one-quarter of all apps on BlackBerry App World today have been built using HTML5 and the enhancements and native-like integration offered by BlackBerry WebWorks.
So effortless user paradigm? Possibly a bit cheesy. Exciting new user interface and company on the turnaround? Maybe. Excuse to go to the next BlackBerry DevCon and see if this stuff is really starting to bed in? Absolutely.