Apple's next operating system: OS X Lion developer preview awakes
The developer preview of Apple's Mac OS X Lion has been awoken, the lion is about to roar, the big cat is about to flex its muscles and the king of the jungle is about to lead the pride forward.
Right, now that we've got most of the clichéd headlines out of the way (oh and I'm sure there will be more), let's actually take a very quick look at what's new.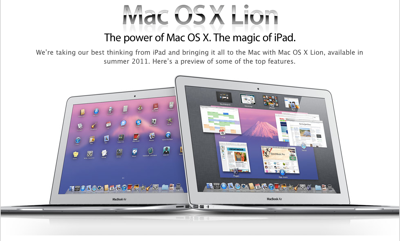 Apple says that Lion features a new feature known as Mission Control to view everything running on any given machine (think of a unified Exposé, Dashboard and Spaces); a new application hub called Launchpad; a fresh option to run apps across a machine's FULL screen; and support for new Multi-Touch gestures.
"The Lion preview is available to Mac Developer Program members through the Mac App Store today and the final version of Lion will ship to customers this summer," said Philip Schiller, Apple's senior vice president of worldwide product marketing. "Developers are going to love Mission Control and Launchpad and can now start adding great new Lion features like full screen, gestures, Versions and Auto Save to their own apps."
Additional features in Lion include: a new version of Mail, AirDrop for file copying, Versions for automatic successive documents saves, Resume to brings apps back exactly how you left them when you restart your Mac or quit and relaunch an app — and the new FileVault function to provide disk encryption for local and external drives.
Mac OS X Lion Server will also be introduced with support for OS X Lion, iPhone, iPad and iPod touch devices.