Apple Pay is easy peasy & never cheesy on Payeezy
Apigee is trying to developers integrate Apple Pay into their retail and gaming applications.
The company (Apigee) itself is actually an API management and predictive analytics platform specialist — and Apple Pay (in case you hadn't noticed) is Apple's "mobile digital wallet" for iPhone 6 and Apple Watch.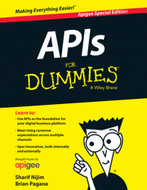 The company (Apigee again, keep up) is working with payment technology firm First Data's cheekily named Apigee-powered Payeezy.com online ecommerce payments platform, which gives merchants access to Apple Pay.
Obviously there's now a big demand to integrate payments within apps, which means opening up payments platforms to the developer community — so First Data is doing this with Apigee's API platform.
NOTE: Apigee is API gee for API management i.e. API as in Application Programming Interface, get it?
"There is high consumer demand for apps that can immediately support new mobile technology," said Chet Kapoor, CEO of Apigee.
"Through an API-centric approach, First Data's Payeezy.com makes it easy and fast for software developers to build apps that support the new single-touch mobile payment capabilities for Apple Pay."
Spell the facts out please
First Data is a global payment processing company serving six million merchant locations, thousands of card issuers and millions of consumers worldwide.
Payeezy.com is an eCommerce platform that provides an online tool for developers to deliver secure online and mobile payments.


Payeezy.com utilizes the Apigee API platform, and First Data was able to significantly accelerate project development and time to market for Payeezy with Apigee. Through APIs, First Data is empowering developers to rapidly design apps for Apple Pay and new mobile payments.


Apigee Edge is an API platform to securely expose and manage data at large scale.
"Apigee Edge is purpose-built for the digital economy, delivering technology businesses need to manage the digital value chain from API exposure to API consumption – and to measure the success of an API program with end-to-end analytics.
Edge includes three components:
API Services,
Developer Services and
Analytics Services.