Anchore: a new name for container predictability
As a newly formed operational entity, Anchore Inc. has announced the formation of the company itself and (in literally the same mouthful) the firm has launched its beta program for users working with containers.
Users can sign up for the Anchore beta program now with an expected availability in Q2 of 2016.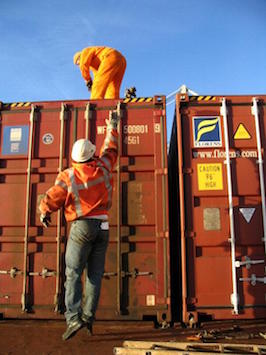 But what is Anchore and how do we achieve container predictability?
The Anchore SaaS platform aims to provide tools to vet, certify, inspect and synchronise container contents.
Through a common portal, application developers can select verified containers from a curated registry and ensure the right containers get deployed in the right places.
The idea is that a centralised interface will be used for compatibility verification, vulnerability scanning and other inspection and synchronisation tasks.
Anchore is the brainchild of co-founders Saïd Ziouani, CEO, Dan Nurmi, CTO, and Tim Gerla, head of products.
Nurmi was a co-founder of Eucalyptus Systems, Inc., the popular open source private cloud platform. Ziouani and Gerla were founders of Ansible, Inc., the enterprise IT automation solution that opened its doors in 2013 and was acquired by Red Hat in Oct. 2015.
"Containers give developers a way to quickly and efficiently test and deliver applications," said Ziouani. "Once containers begin moving through QA, acceptance and deployment processes, it becomes easy to lose track of provenance and compatibility information. Anchore gives users tools and resources to have full visibility of the 'chain of custody' as containers move through the development lifecycle, while providing the visibility, predictability, and assurance needed for production deployment."
Compatible with public container registries such as DockerHub, Anchore will interact with container platforms, including Kubernetes, Mesos, CoreOS, ECS, and Google Container Engine.
Anchore is not a "single-pane-of-glass" interface for all container management tasks, but is focused on providing certification and visibility into container contents for all stakeholders in a container-based application environment.