An Internet of Health developer platform in iHealth
We talk a lot about the so-called Internet of Things and now the Internet of Everything even… but the next wave of development will depend on actual devices and tangible platforms that software application developers can physically target.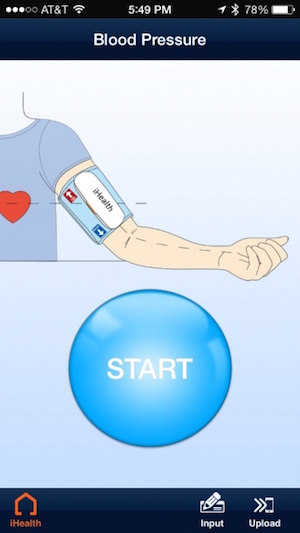 If there is indeed an Internet of Health (really, it's just another part of the IoT with a close faily relationship to 'wearable' technologies of course), then we need more than just FitBits (as lovely as they are) to facilitate the next phase of growth.
The iHealth line of personal mobile blood pressure monitors is one of the higher quality new IoT devices to hit the market.
As I have written elsewhere, the build quality is high, the readout results are accurate and the user experience is good.
The devices come with a free mobile application and sync with iPod, iPhone and iPad – plus Android devices.
As already noted, we could perhaps suggest that the point of a product like this is its portability and ease of use — essentially, it encourages the user to track personal blood pressure and start watching their health on the same device that they use to check Facebook.
According to the company, "The free iHealth MyVitals app automatically keeps a history of your data and gives you the option to share your information with your doctor or caregiver. Our devices work with both Apple and Android devices.
The system itself is as intuitive as any user would want and naturally expect in this age — it's easy to set up a profile and the Bluetooth sync ability to iPad and iPhone is good (in fact it's so good that you don't need to fuss around pairing or even turning the armband device on again for subsequent uses – opening the app on the device is enough).
Cardio-opinion
As stated by the devices top reviewer, "As a cardiologist, I have used this machine over the past five days, taking a manual blood pressure and then using the iHome blood pressure machine on my patients. I admit surprised in that the machine is very accurate. In one patient (with a thick shirt on) it was 10mmHg off, but otherwise, it is usually within 5mmHg of my independent reading."
Using the 'Trends' function a user can review your history in both a graph and list format.
The machine charges via a USB cable and battery life is said to be enough for 100 uses.
According to its makers, "In addition to keeping your data on your mobile device, you also receive a free and secure cloud account. Accessible from any computer, you can log on to view all of your vitals, as well as share readings with your healthcare provider."
What needs to happen next is third party application integration and this if anything is the only criticism levied at this product and the software presented here.
Third-party app integrations will be key to making the Internet of Health in the IoT actually work for all of us humans.
Devices in this category are becoming increasingly sophisticated and the iHealth line is worth tracking for wider developments.