Ah grasshopper, turn to the Agile Samurai developer!
In honour of David Carradine's Shaolin monk character Kwai Chang Caine from seventies TV series Kung Fu, this story starts with a reference to Master Po — the blind 'master' who named the young monk 'Grasshopper' after a famous scene in the series pilot which will be familiar to many fans.
Developers without the spiritual guidance of a Kill Bill style Kung Fu master may instead feel they can benefit from the assistance afforded by a technical training book. Agile Samurai: How Agile Masters Deliver Great Software is the latest offering from publisher The Pragmatic Bookshelf.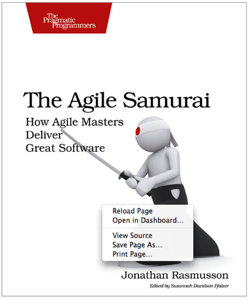 Agile proponents tend to highlight the fact that software projects rarely go as planned; and that becoming a more "fierce" software-delivery professional can enable developers to develop pragmatic new skills, such as what to do when you discover your schedule is wrong and how to look like a pro when correcting it.
Author Jonathan Rasmusson shows the reader how to kick-start, execute, and deliver your agile projects with the finesse of a master. "By learning the ways of the Agile samurai, you'll be ready to kick some software project butt," says his publicity statement.
If kicking "some software project butt" is a bit too gung-ho for you, then at least it's interesting to see Agile advocates using fresh communication channels to try and ply their wares. The book itself appears to be filled with light-hearted illustrations and claims to, "Slice away at the padding and esoteric theory that make other books less-than-agile."