Adobe cranks web developer arsenal with personalisation tools
Aiming to extend its reputation amongst the web developer and designer communities, Adobe has updated its Web Experience Management (WEM) offering with a set of product augmentations designed to drive sites that engender "web engagement with optimised (and personalised) landing pages" plus social tools.
Crucial updates in the Adobe CQ 5.5 suite include the 'Client Context' and 'PhoneGap' options.
These tools have been engineered with the intention of giving web developers greater personalisation power to contextualise website information to an individual user based upon their profile, as long as the user is happy to 'login' and/or 'sign up' to the site's services for regular visits.
Client Context will extend to recognise not only a user's interests and browsing preferences, but also build in awareness of an individual's preferred devices and location should they wish to submit that information.
Adobe will also now include HTML5 mobile application publishing support for the simultaneous launch of content across websites, mobile sites and smartphone and tablet apps.
Also of note here are new enterprise-class Digital Asset Management (DAM) tools, which are integrated with Adobe creative tools and the forthcoming Adobe Creative Cloud — a solution intended to streamline creation and re-use of rich media.
Adobe Creative Cloud will be available worldwide in the first half of 2012.
As previously discussed on Computer Weekly, Adobe defines "experience management" as the process of proactively identifying application content and managing its best delivery to users according to device, platform and application.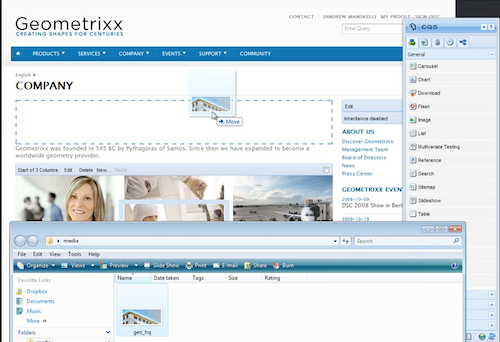 Image: Adobe CQ5 in use: "agile marketing meets rapid development"
Adobe's VP of product strategy and solution marketing Kevin Cochrane suggests that web content management as we previously knew it simply doesn't cut it any longer.
"Not for CMOs tasked with enhancing corporate image and contributing to the bottom line in an age when the expectations of the CEO and customer have never been greater."
Perhaps more pertinently, Adobe's Cochrane also says that consumers now expect highly pertinent information at the right time, whether on a desktop, tablet, or smartphone.
"Our Web Experience Management solution and Adobe CQ 5.5 were built with this in mind and provide the power to personalise each experience, across channels, to build brand, drive demand and reach new audiences," he said.
… and your hyphenated takeaway here is?
Remember how you've heard expressions like state-of-the-art, best-of-breed and out-of-the-box one too many times now?
Get ready for "contextualised-content from channel-to-­channel on a device-to-device basis" — this is the way of the new web.
Or at least it will be if Adobe exerts its influence effectively.