Adobe asks how do developers decide which platform to target?
The trouble with a big IT shows is that they are, by definition, just so big. Looking at the glut of content that was pumped out during last week's Mobile World Congress, I still have plenty to go through. But one of the more interesting meetings I had was with Ben Forta who is senior technical evangelist at Adobe.
English by birth, Forta speaks so volubly and enthusiastically that one American seminar audience once had to ask for a translator during one of his presentations. But don't take that the wrong way – he's fun.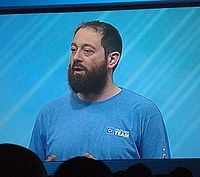 Forta spoke of the fragmentation that we are currently witnessing across the device market and the challenges that this throws up for developers from an operating system point of view.
"With Android, Windows Phone 7, iOS, BlackBerry Playbook etc. to consider, as a developer you have to ask yourself how you are going to hedge your bets and decide which platform you are going to target," Forta told me.
The answer, in part, lies in web standards and interoperability – and initiatives including the Wholesale Applications Community (a body established to encourage the adoption of open standardised technologies for mobile applications) did push forward with its 2.0 specification announcement at the show itself.
Adobe's Forta spoke more specifically on interoperability of applications on the web, saying that Flash basically aims to take up where HTML left off. "But HTML has grown up and developers using CSS and JavaScript can get away without using Flash now. Buy hey, Adobe is still pleased about this as Dreamweaver is still the number one HTML editor out there and CSS integrates with it on many levels – and if you take these applications out of the browser then you need Flash," said Forta.
Linking interoperability issues to open source, Forta went on to talk about the tooling work that Adobe is focused on. The company is contributing to the WebKit open source web browser engine, the JQuery cross-browser JavaScript library as well as Apache and SQLite. Oh and the Flex SDK is open source too.
Adobe was actually more interested in talking about performance advancements with Flash Player 10.2 and the fact that by the end of 2011 the company expects more than 200 million smartphones and tablets to support Adobe AIR applications. As a key element of the Adobe Flash Platform, AIR enables developers to leverage existing code to create and deliver standalone applications across devices and platforms.
Adobe AIR supports smartphones and tablets based on Android, iOS, BlackBerry Tablet OS, and desktops including Windows, Mac OS X and Linux operating systems. So you can see how Forta's argument was coming full circle, even if the company is still plugging the same old stats about Flash being deployed on 98% of desktops worldwide.
So what's next from Adobe?
Well this was a more cerebral meeting to be honest, the company's major product announcements actually centred around its new digital publishing solution which you will have witnessed yourself if you have downloaded the WIRED magazine iPad app. But that's for another blog on another day.