A secure global desktop through HTML5
Oracle is combining the back end database zone that it is known well for with some front end application-centric advancements hinged around simplified remote access to enterprise apps through HTML5.
The firm has announced a new release of Secure Global Desktop.
This product that sits as a part of its Desktop Virtualization portfolio and the new version bids to extend "secure access to cloud-hosted and on-premise enterprise applications" and desktops from Apple iPad and iPad mini tablets, without the need for a VPN client.
So basically this is Oracle supporting the HTML5 standard to allow users to access enterprise applications with just a web browser.
The theory is that this technology provides access to a range of server-based applications and desktops, including those running on Windows, Solaris, Linux, as well as legacy mainframe and midrange systems.
In the Oracle Secure Global Desktop architecture, applications and desktops are deployed in the cloud (centrally managed servers) and can be securely accessed simply using a web browser on the client device.
This model attempts to shift the complexity of IT management away from individual desktop computers and into the datacentre, where it is (in theory) more-easily controlled and monitored.
"Enterprise users expect increasingly more mobile access to applications which are often designed to run on desktop PCs. Oracle Secure Global Desktop provides IT with a highly secure remote access solution for such applications, and even full desktop environments, from tablets," said Wim Coekaerts, Oracle senior vice president for Linux and virtualisation engineering.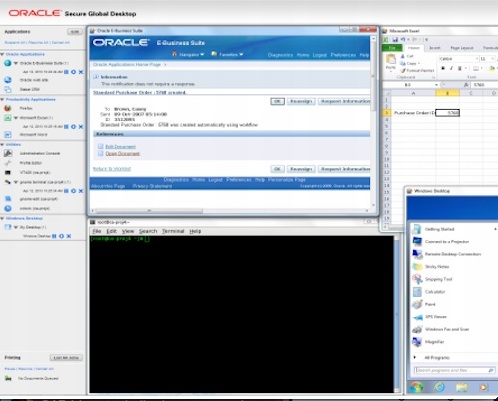 Image: Oracle Secure Global Desktop is a solution for accessing hosted
workspaces (diverse application and desktop environments) resident in the cloud from a
single Web browser.