Download this free guide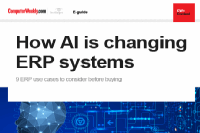 9 ERP use cases you should not miss
The rise of machine learning and AI in the workplace has been well documented over the past few years, and the growth of the machine is unquestionable. However, recent shifts in AI technology are now specifically having an impact on ERP software. Download this e-guide to read more.
In Depth
We look at the basics of creating storage and specifying it for applications in container storage using Kubernetes Persistent Volumes and Persistent Volume Claims

The automation of human resources processes, some of which uses robotic process automation, can benefit humans, as a clutch of Nordic and UK organisations show

The technology skills gap is growing worldwide, despite digital skills being as important as ever. So how can IT leaders develop the perfect tech team in the current talent environment?
View All In Depth Articles
Blogs
This is a guest post for Computer Weekly Open Source Insider written by Ali Ghodsi in his capacity as co-founder and CEO at data science, big data processing and machine learning company ... Continue Reading
Opinion
Examining the technical, legal and ethical challenges around the privacy versus security debate

We consider how best to address some of the critical security challenges around the internet of things

In theory, the elimination of trust on the network simplifies IT security, but zero trust also brings new complications and new challenges. How should CISOs approach moving their organisations from traditional network security to a zero-trust ...
View All Opinion Articles