Software licensing
Software licensing can be a contentious and complex area for IT managers, but is essential to getting value from your software investments. While new models such as software as a service (SaaS), open source and freeware offer new ways to source software, auditing and compliance for your existing software estate remain an important part of IT governance. We analyse the latest trends in this important field.
In Depth :

Software licensing
Storage infrastructures within Asean organisations are changing to support technologies designed to speed up, automate and centralize. Continue Reading

We'll ensure we don't break contract terms, but providers must better meet our needs in terms of simplicity and flexibility, say IT bosses Continue Reading

There remain a number of compliance issues with Saas, none of which have a common, single fix Continue Reading
View All In Depth

Download this free guide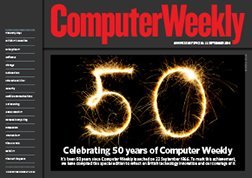 Computer Weekly 50th anniversary special
It's been 50 years since Computer Weekly's launch on 22 September 1966. To mark this achievement, we have compiled a special edition of the magazine to reflect on how much the British technology industry has contributed over that time – and, of course, to celebrate our role in keeping IT professionals in touch with those developments – week-in, ...
Opinion :

Software licensing
With enterprise interest in graph databases on the rise, Clive Longbottom explains why some businesses are favouring them over relational setups Continue Reading

The 2015 spending review is set to put further pressure on the public sector. Are there easy cuts public-sector CIOs can make? Continue Reading

There is a need for British businesses to improve their adoption of digital technologies Continue Reading
View All Opinion
Videos :

Software licensing
This month's CW500 videos looks at how supplier relationship management and sourcing has evolved

This month's CW500 videos looks at how supplier relationship management and sourcing has evolved

In this video, Forrester analyst Stephen Mann discusses the benefits of strong IT asset management processes within IT departments
View All Videos