Data centre disaster recovery and security
In Depth :

Data centre disaster recovery and security
Datacentre operators often talk up the physical security measures they have in place, but are they at risk of overlooking cyber threats? Continue Reading

The Isle of Man government is stepping up efforts to position itself as the low-tax jurisdiction of choice for the startup community. But what's it like to do business there? Continue Reading

As Computer Weekly prepares to celebrate its 50th anniversary, we take a look back at how the design and role of the datacentre has changed over the past five decades Continue Reading
View All In Depth

Download this free guide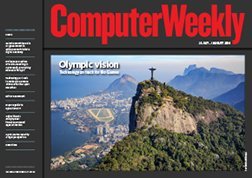 Olympic vision: Technology on track for Rio Games
In this issue, we interview the CIO for the forthcoming Rio Olympics. The technology his team has put in place will support delegations from more than 200 countries, including 10,500 athletes. We also look at datacentre and open source security, as well as take a first look at what the new UK prime minister's approach might be to the digital ...
Opinion :

Data centre disaster recovery and security
Enterprises are demanding faster access to applications and ever more processing power. Could edge datacentres fill the gap? Continue Reading

With colocation providers moving to adopt simpler, cloud-like charging models, would enterprises be better off ditching the datacentre completely? Continue Reading

With reports suggesting some major changes may be afoot at EMC, Clive Longbottom looks at the reasons why Continue Reading
View All Opinion
Videos :

Data centre disaster recovery and security
Lenny Zeltser, security consulting leader at Savvis Inc., explains how some are using SQL injection to actually embed new content, particularly HTML code.

David Litchfield, managing director at NGSSoftware Ltd., reviews three of the most common mistakes that database administrators are making.
View All Videos