Fotolia
Most think cloud services are as good as or better than IT department
Veeam survey shows levels of penetration for as-a-service cloud options and reveals that most IT managers think cloud providers meet service levels better than in-house IT
Cloud services have gained significant penetration to the enterprise, with software-as-a-service (SaaS) in use by nearly 40% of organisations, and infrastructure-as-a-service (31%), platform-as-a-service (28%) and cloud backup services (27%) are also popular.

Download this free guide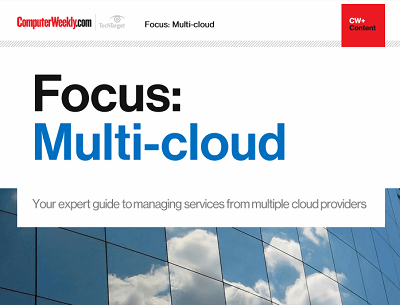 The maturity of the enterprise public cloud
Many IT leaders are increasingly coming round to the idea that sourcing services from one or more providers might be the best way to go. Join us as Computer Weekly takes a closer look at the multi-cloud approach and what providers are doing to capitalise on the trend.
By submitting your personal information, you agree that TechTarget and its partners may contact you regarding relevant content, products and special offers.
You also agree that your personal information may be transferred and processed in the United States, and that you have read and agree to the Terms of Use and the Privacy Policy.
Remarkably, 43% of enterprises think cloud providers' service levels are significantly or somewhat better than their own IT departments.
These are the findings of the 2017 Veeam Availability Report survey, which questioned 1,060 IT management professionals with involvement in storage and backup, in organisations with more than 1,000 employees.
The survey, sponsored by the data protection software maker, also found that most organisations think there is a gap between how quickly they can recover applications and how rapidly they need it to happen to be an "always on" organisation.
The survey asked respondents what cloud services they currently used, and software-as-a-service came out on top, with 39% using it now. Meanwhile, 21% have plans to use SaaS and 19% are interested.
Possibly surprising are the number of those questioned who think cloud service providers meet service levels better than their in-house IT departments.
While 12% think cloud providers are significantly better than their IT departments, a whopping 31% think they are somewhat better. More than one-third (27%) think the service levels of cloud providers and their IT departments are comparable, while only 8% think cloud providers are worse.
Read more on cloud storage
Figures for those that have plans to deploy as-a-service services are all roughly similar, with 24% planning backup-as-a-service and 23% interested, with corresponding figures of 25% and 24% for disaster recovery-as-a-service, 26% and 24% for storage-as-a-service, 25% and 20% for infrastructure-as-a-service, and 25% and 22% for platform-as-a-service.
For those that run apps in the cloud, the highest proportion (26%) have between 21% and 30% of their applications hosted remotely, and 23% have between 11% and 20% of apps run from the cloud. Just 1% of those questioned run more than 50% of their applications from the cloud, however.
Read more on Infrastructure-as-a-Service (IaaS)