Brian Jackson - Fotolia
Tech Nation 2016 report reveals demand for digital skills in all sectors
The digital industries contributed £87bn to the economy in 2014 – but there remains a lack of skills and broadband is still unevenly distributed
This Article Covers
RELATED TOPICS
The Tech Nation 2016 report, from Tech City and innovation charity Nesta, revealed the UK technology sector is growing – but the skills it needs are not coming from traditional education.

Download this free guide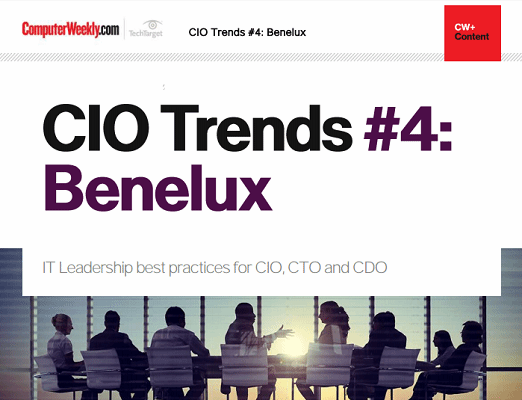 Blockchain for Benelux
Blockchain is today what cloud computing was a few years ago. Businesses are beginning to establish examples about blockchain, while cloud computing moves to being a decision about what kind of cloud strategy a CIO wants. Read about both in this issue.
By submitting your personal information, you agree that TechTarget and its partners may contact you regarding relevant content, products and special offers.
You also agree that your personal information may be transferred and processed in the United States, and that you have read and agree to the Terms of Use and the Privacy Policy.
In the foreword of the report, prime minister David Cameron wrote: "Tech is truly transforming the way we do all kinds of business, right across the country. We will continue to back, with all levers at our disposal, the innovation, creativity and entrepreneurship that is redefining and strengthening the modern British economy."
The report found that, of the 1.56 million jobs in the so-called digital tech economy, 41% – representing 648,000 digital jobs – are in traditional industries. Tech Nation 2016 stated that such jobs make up a growing percentage of the workforce in traditional organisations.
The report referred to a study from Burning Glass, stating that between 2012 and 2015, the number of adverts for digital jobs across traditional industries grew 34%. Those in the health sector – which witnessed the greatest growth – rose by 109.8%. The number of digital jobs in public administration, defence and social security rose by 90.3%, and in financial services the number grew by 78.5%.
Demand for digital skills continued through 2015. According to Burning Glass, over one million online adverts for digital jobs were placed in the UK in the first nine months of 2015. The average advertised salary for these roles was just under £50,000 – 36% higher than the national average.
Read more about digital innovation
Entrepreneurs face skills gap
Burning Glass found the average advertised salary for digital roles grew by 13% between 2012 and 2015 – 19% faster than for non-digital roles. But Tech Nation 2016 reported that around 40% of digital entrepreneurs say they face challenges finding skilled digital workers.
The report found that informal or in-house training remains the most common source of skills development, with universities ranking relatively low in software development activities (see chart below).
"This 'self-taught' cohort is enabled in large part by online open source platforms," said the report. GitHub, for instance, is the key open source platform for developers, with more than 18,000 active users in the UK.
The report recommended policy makers introduce the younger generation to the possibilities of a career in digital markets, connecting pupils with industry and expanding apprenticeships. There is also a need to link technical skills with business skills. "Digital businesses make considerable use of local universities to recruit talent, but entrepreneurs say graduates sometimes lack either the business skills, or the most up-to-date technical skills, needed to go straight into work," the report said.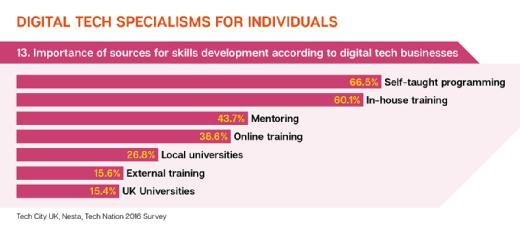 Other findings include a call to improve broadband infrastructure and the need to develop better statistical models to inform policy makers.
The report stated: "High-speed connectivity remains a priority for digital tech businesses." In fact, 28% of digital technology businesses in the Tech Nation 2016 survey reported digital infrastructure as a challenge. Ofcom data on the availability of superfast broadband to households demonstrates that broadband services are still unevenly distributed across the UK.
"Better data on business access to broadband and other digital infrastructure would enable cities to ensure that companies get the connectivity they need to thrive and grow," the report said.
The report warned that the standard industrial classification (SIC) codes used in official statistics struggle to keep speed with dynamic sectors such as the digital technology industries. "Without a better SIC, we cannot make robust comparisons over time," the report noted.