The Future High Streets Forum has met for the first time to discuss how technology can help high streets to remain attractive, sustainable and meet consumer demand.
The group will work with the government and other partners to "revitalise" traditional UK high streets by utilising technology to keep them commercially viable.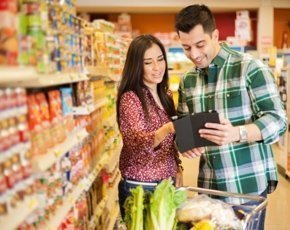 Communities minister Brandon Lewis, co-chair of the Future High Streets Forum, said: "The rise of online retail means Britain's shoppers are changing their habits and high streets need to adapt to continue to prosper. Apps and other digital technologies can bring communities closer to the range of services good town centres offer or reward people for coming into town."
The forum will draw inspiration from successful digital projects, such as Hereford's "Open High Street", which enables small retailers and farmers to trade online.
Meanwhile, a Digital High Street Skills programme set up by the National Skills Academy for Retail and the Association of Town and City Management to provide basic digital skills training for small and medium enterprises (SMEs) is aiming to train 3,000 SME owners and staff by the end of 2014.
Home Retail Group chief executive John Walden, chairman of the Digital High Streets Advisory Board, said there are a number of digital initiatives already in existence, but these private and public sector projects are not joined up in any way. He said the board will take existing good practices and apply them to a broader national strategy.
Digital High Streets Advisory Board members
Private business
Sainsbury's, Marks & Spencer, John Lewis, Argos, Lloyds Banking Group, Post Office, BT, Telefonica/O2, Google, IBM, Hammersons, Westfield
Public sector
Department for Business, Innovation and Skills (BIS), Department for Communities and Local Government (DCLG), Dartford Borough Council, Technology Strategy Board
Trade bodies
Association of Licensed Multiple Retailers, Association of Town and City Management (ATCM), British Retail Consortium (BRC), British Independent Retailers Association (BIRA), British Council of Shopping Centres (BCSC), GSMA, IMRG (UK's online retail association)
"It is absolutely imperative that a national digital strategy for high streets is built around flexibility so it can adapt to changing consumer demand and play a key role in the increasing desire of residents and visitors to access leisure, social and cultural experiences when they visit town and city centres," Walden said.
Elsewhere, a crowdfunding project has been launched to help revive the UK's high streets by inviting retailers, investors and shoppers to invest in a digital platform.
The network of digital high streets – MyHigh.St – currently provides a platform for 400 retailers to showcase their businesses online, enabling independent shopkeepers to compete with the likes of Tesco, Amazon and other internet giants. 
Retailers and interested members of the public can pledge as little as £10 to support the project, and a variety of rewards is offered to those who invest £100 or more. The initiative hopes to raise more than £270,000 during a two-month investment drive. 
Loaye Agabani, co-founder of MyHigh.St, said: "Like MyHigh.St, crowdfunding is community-driven, allowing everyone, from individual shoppers to large investors, to share in the future of the high street. The government gave its hand-outs, but the real solution is with the people.
"Online is the biggest opportunity independent retailers have ever had. A total of £91bn was spent online last year and a 17% growth in online spending is expected in 2014. We envisage a network of digital high streets, showcasing all that Britain's shopkeepers have to offer, with MyHigh.St as part of the online future of retail. Our research suggests that just one in three independent retailers is currently able to sell online. With everyone on board and working as a team, we can transform this market."
Email Alerts
Register now to receive ComputerWeekly.com IT-related news, guides and more, delivered to your inbox.
By submitting your personal information, you agree to receive emails regarding relevant products and special offers from TechTarget and its partners. You also agree that your personal information may be transferred and processed in the United States, and that you have read and agree to the
Terms of Use
and the
Privacy Policy
.