Investors are increasingly placing businesses under scrutiny over the way they engage and manage their workforce.
The trend is leading businesses to turn to data analytics technologies to help them find ways of motivating and managing their employees.
Measuring talent capital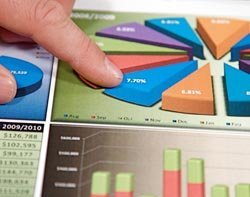 The investment world is beginning to look at the talent capital of companies and not just their financial performance, Jeremy Shapiro, executive director for talent analytics at investment bank Morgan Stanley, told a conference this week.
Years of research has shown that companies that motivate their staff are more profitable than those that do not, he said.
"Organisations with low engagement from employers tend to have lower operating margins than those with high engagement," he said, speaking at the HR Tech Europe spring warm-up conference in London.
One large pension fund has produced a 30-page guide advising the companies it invests in on how to manage their employees more effectively - a sign that investors are beginning to pay attention to the way companies treat employees.
"One investment officer I recently met said 'if I hear one of my organisations has increased attrition among people who drive value, their investment rating goes down, it's as simple as that'," Shapiro said.
Several well-known companies are using data analytics to help them improve the way they manage their workforce.
Employee engagement at Cheerios
General Mills, which makes the breakfast cereal Cheerios ran an in-depth analysis on its employee engagement surveys, with surprising results.
"The data was hiding the fact that it was not the good managers that made employees engaged; it was the best managers," said Shapiro. "Employees with great managers were twice as likely to go the extra mile."
The insight led the company to change the way it trains managers, said Shapiro. Its focus is now to take good managers and turn them into great managers.
Betting on data analytics
In another example the casino group Ceasars Entertainment ran an analysis to work out how many people they needed at the front desk to ensure they had the most people gambling.
The results helped the company create a 12-week rolling forecast of its staffing needs and made a significant difference to profit growth, said Shapiro.
"For a long time it really worked. They were able to show P&I changes," he said.
But after a while, managers started to complain to HR about their hiring decisions, leading to growing tension in the organisation.
"The problem was the business was changing, but the plan was not changing," said Shapiro. "It is a lesson not only in how to create predictive analytics, but also to sustain it."
Despite the focus on data analytics, it's important to remember that behind every piece of data, there is a person, said Shapiro.
"They may have kids or they may have had a bad day; we have to make sure we treat this data with respect," he said.
Minority report
As HR becomes more data-focused, companies will have to increasingly grapple with tough privacy issues, the conference heard.
"Has anyone thought what really happens when 30% of your employees are wearing Google Glasses to work. That means every action is recorded – every mistake, every inappropriate comment and every bad boss technique will be instantly available, " said analyst John Sumser.
DNA analysis will became a HR issue in the future. As the cost of DNA analysis falls, it will become easier and cheaper to make assessments of people from their genetic make-up.
The difficulty is that it is impossible for people to control access to their DNA.
"You shed your skin every 28 days. You leave DNA under the desk and in oils on the lift button," he said. "Your DNA is going to be catalogued, because it can't not be catalogued. Privacy as we know it won't exist."
Privacy risks
Businesses will need to radically change the way they view data protection compliance, said lawyer Paolo Balboni, scientific director of the European Privacy Association.
"Privacy and data compliance is seen as a way to avoid sanctions. That is not enough," he said. "Privacy needs to be seen as an asset to the company."
Reforms proposed by the European Commission (EC), likely to be passed in 2014, will reinforce the requirement for employers to gain consent of employees before they use personally identifiable employee data.
Companies need to take particular care when viewing the social media profiles of potential candidates, he said.
"You need to be very careful because there is also sensitive information [on social networks] about religion and politics. You need to be very careful because you could run into discrimination issues," he said.
Employers need to have social media polices in place, if they want to make use of any data their employees produce on social media.
"For some jurisdictions you need to have employees' written consent and you need to have an agreement with the work's council," he said.
Employees have to be open about monitoring social media. Using subterfuge, for example, by creating false identities is not viewed kindly by the courts.
Email Alerts
Register now to receive ComputerWeekly.com IT-related news, guides and more, delivered to your inbox.
By submitting your personal information, you agree to receive emails regarding relevant products and special offers from TechTarget and its partners. You also agree that your personal information may be transferred and processed in the United States, and that you have read and agree to the
Terms of Use
and the
Privacy Policy
.