Innocents accused of Illegal file sharing
Innocent people are being accused of illegal...
Innocent people are being accused of illegal file-sharing and threatened with high court fines by games manufacturers seeking to protect copyright.

Download this free guide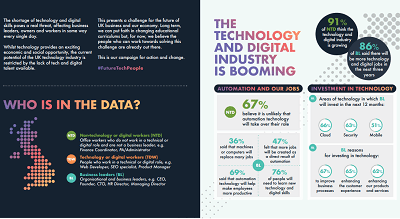 Infographic: Future-proofing UK technology
The current potential of the UK technology industry is restricted by the lack of tech and digital talent available. Read through this challenge for the future of UK business and our economy.
By submitting your personal information, you agree that TechTarget and its partners may contact you regarding relevant content, products and special offers.
You also agree that your personal information may be transferred and processed in the United States, and that you have read and agree to the Terms of Use and the Privacy Policy.
The reports surfaced following a Which? Computing magazine investigation.
Gill and Ken Murdoch from Inverness were pursued by games firm Atari for allegedly sharing the game Race 07 on their computer.
The couple, aged 54 and 66, have never played a computer game in their lives but were "caught" by Atari's solicitors, London law firm Davenport Lyons, who identified the Murdochs' computer's address as illegally file-sharing.
They were given the chance to pay £500 compensation and £25 costs, with the threat that costs would be much higher if legal proceedings were started.
Since Which? Computing's intervention, Davenport Lyons has decided not to take the matter any further, said the magazine.
Some 6m people are thought to illegally share files each year, a trend the entertainment industries say costs millions in lost revenue.
Lawyers are stepping up the hunt for Britons who illegally share games and films over the internet, and say thousands of people will receive letters demanding payment for infringement of copyright.
Which? estimates hundreds are innocent victims who have failed to secure their computer against file-sharing, and may have had their IP address used illegally by a third party.
Sarah Kidner, editor at Which? Computing, said: "It's outrageous that lawyers are falsely accusing people of illegally file-sharing, and we think they should cut out the heavy-handed tactics.
"But consumers need to be aware of the dangers of having their computer address piggy-backed and take some basic steps to protect themselves."
Which? Computing gives the following tips for ensuring users are not one of those wrongly accused of breaking copyright laws:
Wireless network: Many routers come with weak passwords like 'admin' as default, and can have security functions turned off. Enable Wi-Fi Protected Access (WPA) passwords. This is the easiest step to guard against "piggy-backing" or having your IP address used illegally by a third party.
Parental controls: Set parental control software to block children accessing P2P sites. Some ISPs, such as BT and AOL, include this. Or install software such as Net Nanny. Make sure you are the administrator.
Broadband use: Most ISPs offer tools for monitoring downloads. Check regularly to make sure there are no sudden hikes in usage that might suggest someone is using your connection.
Think security: A firewall and anti-virus software are a must, but these are no guarantee as you won't be able to rely on the failure of security software as a defence to copyright infringement.
Disable file sharing: If you use P2P software for legal downloads, disable file sharing. To date, only uploaders - people who make games available - have faced court action.