Public sector drives demand for open source alternatives to Office
The leading open standards alternative to Microsoft Office is available as a commercial package as Staroffice from Sun Microsystems, and as a free, downloadable version from Openoffice.org.
What is it?
The leading open standards alternative to Microsoft Office is available as a commercial package as Staroffice from Sun Microsystems, and as a free, downloadable version from Openoffice.org. Openoffice is also shipped by Linux distributors, and Openoffice.org estimates it has more than 40 million users worldwide.

Download this free guide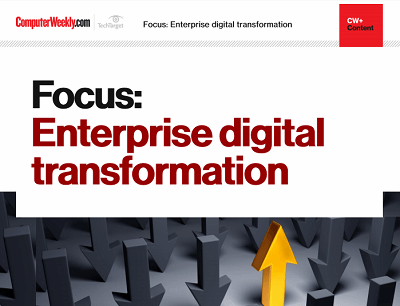 Are you digital to the transformation?
Digital transformation - the buzzword that we can't get away from. Enterprises need to accelerate their digital transformation journeys to avoid being left behind in an increasingly digital world. It's not an easy feat, but one that can be costly to get wrong. Join us as Computer Weekly takes a look at how businesses can stay on track through collaboration, innovation, and listening to user needs.
By submitting your personal information, you agree that TechTarget and its partners may contact you regarding relevant content, products and special offers.
You also agree that your personal information may be transferred and processed in the United States, and that you have read and agree to the Terms of Use and the Privacy Policy.
Staroffice/Openoffice file formats are said to be fully compatible with their Microsoft Office equivalents. They are XML-based, Open Document-compatible, and can be read and modified by any XML application.
Where did it originate?
Staroffice was developed in Germany and acquired by Sun in 1999. Sun offered Staroffice 5.2 as a free download, but took it back again with Staroffice 6, which the company made part of the Java Desktop. Instead, Sun released the code to the open source community and Openoffice was born. Sun contributes to the development of Openoffice and regularly freezes it, adds its own and third-party extensions, and releases it as Staroffice. The current versions are Staroffice 8 and Openoffice 2.
What's it for?
Like Microsoft Office, Staroffice/Openoffice includes word processing, spreadsheet, presentation, graphics and database applications.
Apart from adding some fonts, Sun's main contribution to Staroffice is a Macro Migration Wizard for converting VBA (Visual Basic for Applications) macros to Star Basic, which tackles one of the main barriers to migrating from Microsoft Office.
Staroffice supports 10 human languages; Openoffice supports more than 30, and is actively working to extend this to include languages spoken by communities overlooked by commercial software providers.
What makes it special?
Staroffice costs a fraction of the price of Microsoft Office and Sun has been pioneering a subscription scheme that could bring the cost to below £20 per PC. Openoffice can be downloaded for nothing. Both also have cross-platform support, whereas Microsoft Office runs only on Windows.
Staroffice 8 Enterprise Edition software includes configuration and management tools to simplify roll-out and support.
Openoffice has its own component model, Universal Network Objects (Uno), and the Uno Runtime Environment (URE). URE allows Uno to be used independently of the Openoffice suite, enabling language-agnostic applications and plug-ins to be developed.
How difficult is it to master?
Although there are differences, moving to Staroffice/Openoffice is probably no more challenging than adapting to a major release of Microsoft Office. The emphasis is on standard technologies with which developers are already familiar.
Where is it used?
The biggest take-up of Staroffice and Openoffice is in the public sector and education in Europe, North America and Asia. Sun provides Staroffice free to not-for-profit organisations.
What systems does it run on?
Staroffice is available for Windows, Linux, and of course Solaris. Openoffice also runs on FreeBSD and Macintosh OS X.
What's coming up?
Although Openoffice 2 has only been out a few months, Openoffice.org is inviting proposals for Openoffice 3. The Uno component model and URE provide potential for extending the technology beyond the five basic office applications.
Read more on Operating systems software