Ethernet is getting more expensive
The price of Ethernet has risen for the first time in several years even though people are buying more switches, says market...
The price of Ethernet has risen for the first time in several years even though people are buying more switches, says market researcher Dell'Oro Group.

Download this free guide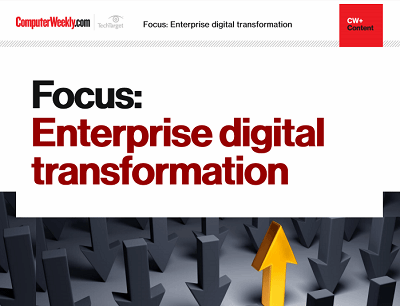 Are you digital to the transformation?
Digital transformation - the buzzword that we can't get away from. Enterprises need to accelerate their digital transformation journeys to avoid being left behind in an increasingly digital world. It's not an easy feat, but one that can be costly to get wrong. Join us as Computer Weekly takes a look at how businesses can stay on track through collaboration, innovation, and listening to user needs.
By submitting your personal information, you agree that TechTarget and its partners may contact you regarding relevant content, products and special offers.
You also agree that your personal information may be transferred and processed in the United States, and that you have read and agree to the Terms of Use and the Privacy Policy.
The company says the average price of an Ethernet switch port has risen to $96 (£53), with Fast Ethernet about $50 per port and Gigabit about $200.
"Over time prices have always gone down, but for the first half of 2004 the average price of a Fast Ethernet port rose by a few percent," said Seamus Crehan, Dell'Oro's director of Ethernet switch research.
"There is a two-pronged upgrade going on," he said. "There is the shift to higher speeds as the prices of the different speeds converge, and the other prong is there is more intelligence going into the switch - that affects all speeds but it affects Fast Ethernet the most."
Crehan warned that while switch buyers are getting more for their money, for example Power-over-Ethernet and Layer 3/Layer 4 capabilities, there are also serious management challenges ahead as the intelligence in the network moves from the core to the edge.
"It used to be the IT manager would try to centralise the complexity, but we are starting to see enterprises roll out IP telephony and wireless Lans, and those applications drive the need for more feature-rich switches, especially on the client side," he said.
He added that on the one hand, convergence means that in the long term there will be less to manage, but that on the other, the actual management will be more complex. And in the interim, both converged and non-converged networks must be managed side by side.
Dell'Oro figures show strong demand for Ethernet switches during the first half of 2004, thanks to pent-up demand. Crehan added that he expects Ethernet switch pricing to fall again in the future.
Bryan Betts writes for Techworld
Read more on Managing IT and business issues