Employment agency expects to save 40% on IT costs with IBM desktop service
Randstad Employment Bureau expects to cut annual IT costs by 40% after becoming the first UK user to sign up to IBM's Desktop...
Randstad Employment Bureau expects to cut annual IT costs by 40% after becoming the first UK user to sign up to IBM's Desktop Management Service, in a three-year deal worth around £900,000.

Download this free guide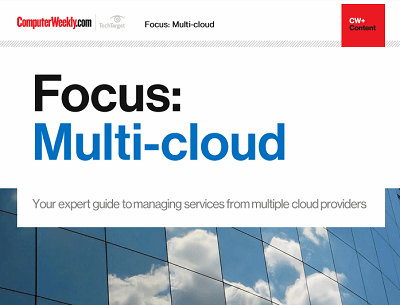 Mixing and matching your cloud options
Many IT leaders are increasingly coming round to the idea that sourcing services from one or more providers might be the best way to go. From a cost and resiliency perspective, some workloads might work better in one cloud over another. Or a certain provider might boast some functionality that suits a particular process the enterprise is looking to implement, but falls short in other areas, prompting the company to adopt a mix-and-match procurement strategy. Join us as Computer Weekly takes a closer look at the multi-cloud approach and what providers are doing to capitalise on the trend.
By submitting your personal information, you agree that TechTarget and its partners may contact you regarding relevant content, products and special offers.
You also agree that your personal information may be transferred and processed in the United States, and that you have read and agree to the Terms of Use and the Privacy Policy.
The UK arm of the world's fourth-largest employment agency is replacing its existing IT infrastructure, which is made up of a number of disparate systems, with IBM hardware and software, managed on a monthly price per seat basis by the supplier.
Randstad expected to save around £650,000 a year as a result of using the service to standardise its IT infrastructure, said Patrick Green, director of business services at the company.
"We had quite an antiquated IT infrastructure with a mish-mash of different systems there as a result of an acquisition in 2001," he said. "Offering effective IT support has been difficult as it would take a long time to work out what the problem actually was. The IBM deal will give us flexibility as we have a lot of disparate users."
Under the terms of the deal, which was announced yesterday (21 April), IBM will be responsible for the deployment of 450 IBM S50 desktop PCs, 50 IBM R40 ThinkPads, 120 IBM Infoprint 1352 printers and 90 IBM xSeries servers.
IBM will also manage all aspects of the company's data migration, IT management, helpdesk support, asset reporting and anti-virus protection.
The new infrastructure will support Randstad's growth targets, which will see an estimated 200 new users added over the next three years, Green said.
The initial implementation of the equipment is expected to be complete by June. At the end of the contract, Randstad will be able to choose between fully purchasing the systems, returning them or partially replacing them with new equipment depending on the company's requirements at that time.
Read more on IT outsourcing