Desktop Linux demand on the rise, says Sun
German original equipment manufacturer (OEM) Markement has sold over one million units of its Sun Microsystems' StarOffice...
German original equipment manufacturer (OEM) Markement has sold more than one million units of its Sun Microsystems' StarOffice productivity suite.

Download this free guide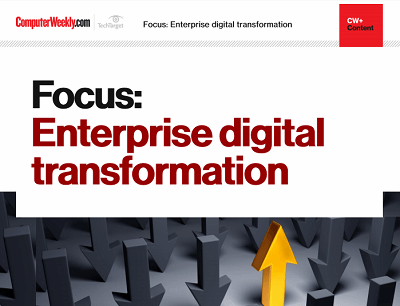 Are you digital to the transformation?
Digital transformation - the buzzword that we can't get away from. Enterprises need to accelerate their digital transformation journeys to avoid being left behind in an increasingly digital world. It's not an easy feat, but one that can be costly to get wrong. Join us as Computer Weekly takes a look at how businesses can stay on track through collaboration, innovation, and listening to user needs.
By submitting your personal information, you agree that TechTarget and its partners may contact you regarding relevant content, products and special offers.
You also agree that your personal information may be transferred and processed in the United States, and that you have read and agree to the Terms of Use and the Privacy Policy.
However, Germany is StarOffice's home market and the software has been available since 1993. It remains to be seen if Sun can replicate its success elsewhere.
Carsten Müller, Sun product marketing manager for desktop software in Germany, is confident, however, saying that consumers are hungry for change and now is the time for Linux on the desktop.
"People want to be free from being locked into certain products and companies, namely Microsoft, " Müller said, speaking at the CeBIT trade show in Hannover.
Müller sees customers' frustration with Microsoft and its dominance in the market as a key driver of desktop Linux adoption.
"Customers definitely want to see an alternative to Windows and Microsoft," he said. "Linux on the desktop is going to grow fast, outpacing its current strength on the server side."
Müller admitted that StarOffice and the company's Java Desktop System (JDS) are limited in the kinds of users they can serve at the moment. The products are geared toward office workers who need basic word processing, messaging, e-mail and office programs but are not tailored toward specific industries or tasks.
Müller said he expected Linux desktop options, not just from Sun but other suppliers, to grow fast. In fact, a version of JDS is due to come out in about six weeks with new management and administration features for enterprises.
Scarlet Pruitt writes for IDG News Service
Read more on Operating systems software