Anti-offshore groups present united front
US groups hoping to slow the migration of skilled jobs to low-wage countries say it will take a combination of actions affecting...
US groups hoping to slow the migration of skilled jobs to low-wage countries say it will take a combination of actions affecting visa, trade policies and tax laws to stem the flow of jobs overseas.

Download this free guide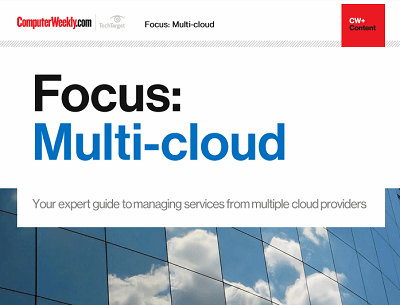 Mixing and matching your cloud options
Many IT leaders are increasingly coming round to the idea that sourcing services from one or more providers might be the best way to go. From a cost and resiliency perspective, some workloads might work better in one cloud over another. Or a certain provider might boast some functionality that suits a particular process the enterprise is looking to implement, but falls short in other areas, prompting the company to adopt a mix-and-match procurement strategy. Join us as Computer Weekly takes a closer look at the multi-cloud approach and what providers are doing to capitalise on the trend.
By submitting your personal information, you agree that TechTarget and its partners may contact you regarding relevant content, products and special offers.
You also agree that your personal information may be transferred and processed in the United States, and that you have read and agree to the Terms of Use and the Privacy Policy.
"You can't stop it altogether, nor are we saying that we should stop it altogether," said US senator Christopher Dodd, a leading opponent of offshore outsourcing, although he added that the trend toward offshoring is "so overwhelming" that "some effort to try and put the brakes on it, to slow it down, consider what we are doing" is needed.
That attack is well under way. Dodd recently introduced the US Workers Protection Act, which would prohibit the use of federal funds in offshore work. Last year, he introduced legislation that would set restrictions on L-1 visas, which are used by companies to transfer overseas employees into jobs in the US. Critics say the visa programme has become a vehicle for facilitating job losses.
Earlier this month, legislation was introduced that requires companies intending to move jobs overseas to disclose their layoff plans three months in advance.
Dodd and others announced the formation of a new organisation - the Jobs and Trade Network - to spearhead the attack against offshore outsourcing.
There are some 15 groups involved, including the United Steelworkers of America, a number organisations, including some that represent professional employees, and the American Engineering Association, as well as some manufacturing associations whose members are being hurt by existing trade policies.
The legislative attack is still in its early stages but it is still growing and could affect business processes if it succeeds.
Patrick Thibodeau writes for Computerworld
Read more on IT outsourcing