Microsoft enhances FrontPage and SQL Server
Microsoft is to support development of XML-based websites in Office FrontPage 2003 and extend SQL Server database capabilities to...
Microsoft is to support development of XML-based websites in Office FrontPage 2003 and extend SQL Server database capabilities to more than 50 proprietary databases and files.

Download this free guide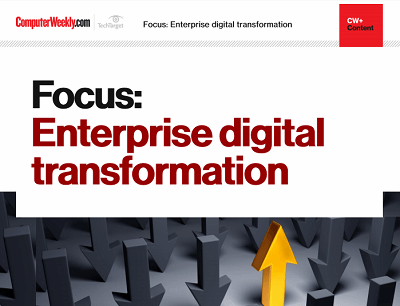 Are you digital to the transformation?
Digital transformation - the buzzword that we can't get away from. Enterprises need to accelerate their digital transformation journeys to avoid being left behind in an increasingly digital world. It's not an easy feat, but one that can be costly to get wrong. Join us as Computer Weekly takes a look at how businesses can stay on track through collaboration, innovation, and listening to user needs.
By submitting your personal information, you agree that TechTarget and its partners may contact you regarding relevant content, products and special offers.
You also agree that your personal information may be transferred and processed in the United States, and that you have read and agree to the Terms of Use and the Privacy Policy.
FrontPage 2003 will serve as a WYSIWIG Extensible Stylesheet Language Transformation Editor (XSLT) editor in which users can work with live data to develop interactive, dynamic websites. This will streamline the process of sharing information on the web, said the company.
With the WYSIWIG editor, users can build XML data-driven websites connecting to XML files, web services, and OLE DB data sources. It is no longer necessary to program with server-side scripting tools such as the Visual Basic development system, Visual C#, or Visual Basic Scripting Edition or Java to develop data-driven web sites.
FrontPage 2003 also offers coding tools such as a Split Screen view for viewing code and the design view simultaneously.
Beta 2 of Microsoft Office FrontPage 2003 is available as part of the Microsoft Office System. Interested customers can sign up to receive the beta at www.microsoft.com/office/preview/frontpage. The final release of the product is due this summer.
Microsoft has also partnered with Information Builders company iWay, which will provide a Universal Adapter Suite for the SQL Server Data Transformation Services. This will extend SQL Server distributed database capabilities to proprietary databases and files as well as to major packaged application systems such as SAP R/3, JD Edwards, Siebel, and PeopleSoft, according to iWay and Microsoft.
The suite will ease data integration across organisations of all sizes, according to iWay.
SQL Server customers get a new level of integration with legacy data for high-volume transactions and data warehouses.
The SQL Server 2000 database is extended in application integration by enhancing its ability to work with packaged applications.
Paul Krill writes for InfoWorld