US behind in curbing e-waste, says report
US technology companies are not doing as well as their foreign counterparts when it comes to protecting workers and the...
This Article Covers
RELATED TOPICS

Download this free guide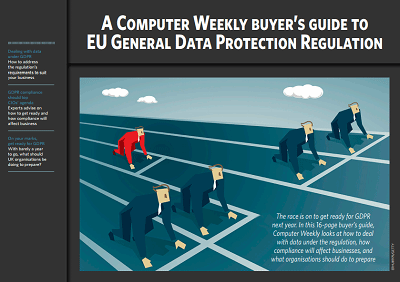 Computer Weekly's Buyer's Guide to GDPR
The race is on to get ready for GDPR next year. Computer Weekly looks at how to deal with data under the regulation, how compliance will affect businesses, and what organisations should do to prepare.

US technology companies are not doing as well as their foreign counterparts when it comes to protecting workers and the environment from e-waste, according to a report released by the Silicon Valley Toxics Coalition (SVTC).



The report, part of the group's Computer TakeBack Campaign, gave poor or failing grades to six of the nine US companies it studied, including Dell Computer, Hewlett-Packard and Gateway.

The organization hoped the report would encourage consumers to use their buying power to convince technology companies to do more to protect public health, worker safety and the environment.

The group analyses information from the Web sites of computer companies, compares and measures the environmental qualities of electronic equipment, and then grades the overall environmental performance of companies.

The study concluded that US companies are not moving fast enough to reduce e-waste such as polyvinyl chloride, brominated flame retardants and other toxic materials used to manufacture computers.

The report singled out Dell for not participating in shareholder meetings about computer takeback programmes or toxic materials policies.

In addition, the SVTC criticised Dell for hiring Unicor, a US government contractor, which uses prison inmates to recycle computers. The group claimed the prison workers were not protected against the hazards of recycling e-waste.

SVTC spokesman David Wood said members of the coalition dressed in prison garb and staged a protest against Dell's policies at the Consumer Electronics Show in Las Vegas, last week.

Dell spokeswoman Michele Glaze said the company was disappointed by the score it received on the study and said Dell is committed to keeping computers out of the rubbish. She said Dell shared the coalition's concerns about protecting people and the environment.

Glaze defended Dell's contract with Unicor, saying the company adhered to all US government occupational safety and health regulations.

"Our contract with Unicor allows us to offer recycling free of charge to consumers," she said.
Read more on Data centre hardware