Microsoft: Witness's claim that rivalscrafted remedies fails to impress
An attorney with the states suing Microsoft yesterday poked holes in testimony from a Microsoft witness who claimed Microsoft's...

Download this free guide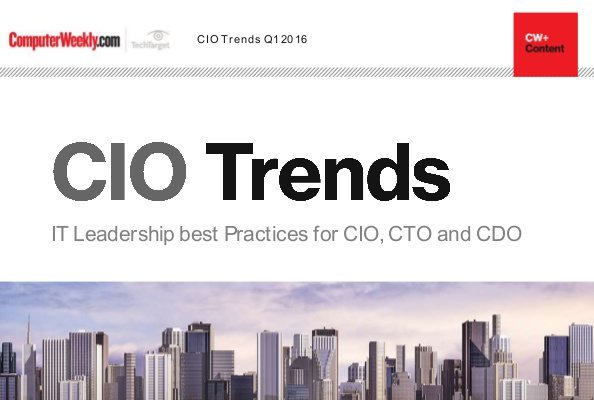 Your exclusive guide to CIO trends
A collection of our most popular articles for IT leaders from the first few months of 2016, including: - Corporate giants recruit digitally-minded outsiders to drive transformation - Analytics platforms to drive strategy in 2016 - Next generation: The changing role of IT leaders.
By submitting your email address, you agree to receive emails regarding relevant topic offers from TechTarget and its partners. You can withdraw your consent at any time. Contact TechTarget at 275 Grove Street, Newton, MA.
You also agree that your personal information may be transferred and processed in the United States, and that you have read and agree to the Terms of Use and the Privacy Policy.

An attorney with the states suing Microsoft yesterday poked holes in testimony from a Microsoft witness who claimed Microsoft's competitors had crafted many of the states' antitrust remedies.



Attorney for the states Steven Kuney questioned Kenneth Elzinga, a professor of economics at the University of Virginia, about his assertion that the states' remedies would give Microsoft rivals a competitive advantage if implemented.

In his written direct testimony, Elzinga included a chart that attempted to show how Microsoft competitors influenced the creation of specific remedies proposed by the states.

For example, Elzinga said that AOL Time Warner and RealNetworks called for an end to Microsoft's market development allowances - discounts the company offers certain PC makers that licence Windows - which is included in the states' remedy. Elzinga's chart referred to documents from 2001 which, he claimed, proved the involvement of AOL and RealNetworks in devising these remedies.

Kuney then showed the court a copy of the remedy order written by US District Judge Thomas Penfield Jackson, who oversaw the liability portion of Microsoft's antitrust trial, which also called for an end to Microsoft's market development allowances. That order was written in 2000, Kuney said.

"In developing your chart, can you explain why you cited a document from October of 2001 and two from November of 2001, and did not mention the identical provision in Jackson's remedial order?" Kuney asked.

Elzinga answered that it had not occurred to him that Jackson's writings were related to what he was focusing on in his written direct testimony.

Kuney went on to show that a number of the states' proposed remedies have identical language or similar meaning to provisions laid out by Jackson.

He then asked if Elzinga was claiming under oath that Microsoft competitors had developed the provisions in the states' remedies. .

"Perhaps 'supported' is a better word than 'developed'," the witness responded. "I will concede that the word 'developed' is an awkward one."

Given that admission, Kuney asked how Elzinga came to determine that the states' remedies were influenced by Microsoft's rivals. Before the US Department of Justice had even brought its antitrust case against Microsoft, the company's competitors were making suggestions of how Microsoft's behaviour should be modified, Elzinga answered.

The DOJ and nine states agreed to an antitrust settlement with Microsoft last November; the states continuing litigation are seeking stricter limits on the company's business practices.

Elzinga, who used to work in the DOJ's antitrust division, said he had no problem with companies approaching government agencies to raise claims about anticompetitive behaviour in their markets.

However, he said that when he sees evidence of competitors using remedies to further their own place in the market, he becomes suspicious of "rent seeking". Elzinga defined this term in his written direct testimony as "the object of which is not to increase innovation or economic output, but rather to expropriate Microsoft's intellectual property for use by competitors".

An example of such evidence is the term "network operating system" found in the states' remedies, Elzinga said, which, he claimed, Novell requested be added to the provision so that its product would be covered in the remedy. He added that Novell uses the phrase to describe its product, while most companies refer to such software as server operating systems.

Kuney showed the document that Elzinga had referred to in his testimony as the source of his information, which did not contain the phrase "network operating system". Elzinga claimed he must have gleaned his information from another document, but could not recall where at that moment.

The states and Microsoft are presenting proposed remedies to Microsoft's anticompetitive behaviour during this hearing in front of US District Judge Colleen Kollar-Kotelly, which began in mid-March.