Sun and HDS tie the knot
After months of rumours Sun Microsystems and Hitachi Data Systems (HDS) last month formalised their high-end storage systems...
This Article Covers
RELATED TOPICS

Download this free guide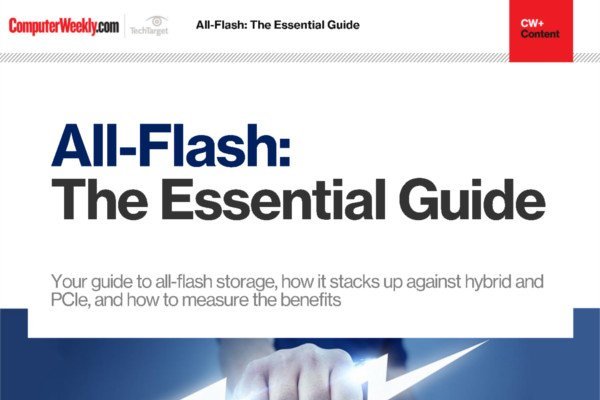 All-Flash: The Essential Guide
Access this guide to learn about all-flash storage, how it stacks up against hybrid and PCIe, and how to measure the benefits.
By submitting your personal information, you agree that TechTarget and its partners may contact you regarding relevant content, products and special offers.
You also agree that your personal information may be transferred and processed in the United States, and that you have read and agree to the Terms of Use and the Privacy Policy.

After months of rumours Sun Microsystems and Hitachi Data Systems (HDS) last month formalised their high-end storage systems marriage, which will mean increased competition for EMC.



The pair have signed a three year deal - said to be worth billions of dollars - which will see Sun reselling and supporting HDS's Lightning 9900 high-end disk array to its own customer base. The 9900 will be co-branded, with Sun supplied Lightnings branded as StorEdge 9900. Sun and HDS have also set up joint support centres staffed by technicians from both companies.

The two companies will also jointly develop storage systems software, and work on integrating their systems software. For example, they will want to ensure that Sun's Solaris operating system can manage Lightning array and functions, such as snapshot and remote copy. The deal fills a hole in Sun's high-end storage potfolio.

Chris Atkins, Sun's UK storage marketing manager said the deal was 'an admission that we have to work with other suppliers'. He said it will mean that Sun can now sell storage-centric solutions to those customers who want them, as well as the distributed storage architectures which Sun specialises in. 'All customers are looking to buy servers and storage from as few suppliers as possible.'

HDS has a similar arrangement with Sun rival Hewlett-Packard but Atkins said this is unlikely to be an issue as sales are won `at a systems level' rather than on the basis of storage per se.

This deal will mean more competition for EMC, which HDS replaced as storage provider at HP.

Gartner Group analysts Josh Krischer and Stanley Zaffos commented; 'The agreement should not have a significant impact on HDS's relationship with HP. There may be a potential problem with Sun's big resellers Amdahl and Comparex, which resell EMC's Symmetrix, and not Sun's, storage products. Gartner believes that Sun will not tolerate this much longer, and those resellers will likely have to switch to HDS storage.'


IT_snippets
Britain's first 'dedicated' storage event, Storage Expo, has put up the 'no vacancies' sign on its stand allocation, with exhibitor spots sold. The event, scheduled for October 18 at the NEC Birmingham will see all the main players, plus some of the minor ones, from the storage industry airing their wares and their views. Among the big boys on parade will be IBM, EMC, Hitachi Data Systems, StorageTek, Sun and Veritas. But size isn't everything, and some minnows will also be swimming around the whales. Event director Giles Mallon reckons the event is so popular because 'data storage issues will not keep. The world is in a headlong rush to go digital.' 'Free' seminars and tutorials will run alongside the conference.
www.storage-expo.com


Norwegian magnetic media specialist Tandberg Data has launched a digital linear tape autoloader which contains 10 cartridges in a removable 7-cartridge magazine, and one internal 3-cartridge fixed slot. The company says the autoloader can provide storage capacities of up to 800 gigabytes at rates of 43 gigabits per second (compressed). Company boss Gudmundur Einarsson said the product is suitable for mid range systems and networks.
www.tanberg.com


Another Network Attached Storage device has hit these shores. The Tricord Lunar Flare takes a clustered server approach and, according to UK distributor Solution Centre it 'allows administrators to add storage with no downtime, no user interruption and nearly effortless administration. 'Clusters of 16 units provide up to 2 Tbytes storage capacity. The Lunar Flare costs £4,200 which includes a one year warranty.
www.solutioncentre.co.uk


Tape specialist Quantum has given some details of its super DLT (digital linear tape) plans for the next few years. Later this year it plans to launch the SDLT 220 with a per cartridge capacity of 110 Gbytes, and a data transfer rate of 11 Mbits per second. Further Super DLT ramp-ups will follow at regular intervals until 2007 when the series will peak with a Super DLT drive that can store over a terabyte of data on a single cartridge, and will have a transfer rate of more than 200 Mbits per second. 'Customers want to know that the tape platform they have depended on for over a decade, and are investing in today is extendable for several generations into the future,' said Quantum.
www.dlttape.com/sdltmap


McData's 32-port ES-3032 fabric switch is now available in the UK. Among its features are hot plug, redundant power supply, fans and optics and on-line diagnostics, and McData believes it will find wide acceptance in the storage area network market, as it will minimise switch requirement.
www.mcdata.com
Read more on Server hardware