Ruxcon announce call for papers, Script kiddies need not apply
The Ruxcon team have announced their call for papers for the seventh annual Ruxcon conference to be held over the weekend of 19th and 20th of November at the CQ Function Centre, Melbourne, Australia.
The Ruxcon team have announced their call for papers for the seventh annual Ruxcon conference to be held over the weekend of 19th and 20th of November at the CQ Function Centre, Melbourne, Australia.

Download this free guide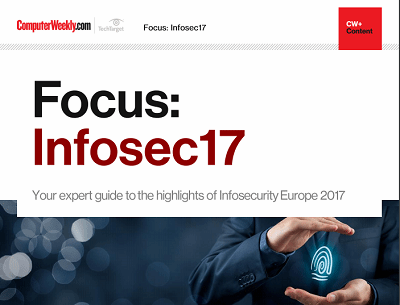 From forensic cyber to encryption: InfoSec17
Security technologist Bruce Schneier's insights and warnings around the regulation of IoT security and forensic cyber psychologist Mary Aiken's comments around the tensions between encryption and state security were the top highlights of the keynote presentations at Infosecurity Europe 2017 in London.
By submitting your personal information, you agree that TechTarget and its partners may contact you regarding relevant content, products and special offers.
You also agree that your personal information may be transferred and processed in the United States, and that you have read and agree to the Terms of Use and the Privacy Policy.
Ruxcon is widely regarded as one of the most technical computer security conferences within Australia, and attracts industry specialists, academics, and security enthusiasts.
Aiming to bring together the best and the brightest security talent within the Australia-Pacific region, the conference offers a mixture of live presentations, activities and demonstrations presented by security experts.
Presenters will include both local security professionals and international invited guests. A training programme is also offered which provides a unique opportunity to receive specialist security training usually not available in Australia.
Instructors are considered to be leading experts in their given security fields and have prior experience training students.
The deadline for submissions is the 30th of July.
Ruxcon 2010 was a significant success for the group, with approximately 30 presentations on topics as diverse as the specifics of remotely executing code in Java Web frameworks (think travel booking systems, online forms) to a discussion on blended malware attacks entitled 'Will it Blend?'. Supporters included Google, Telstra, NAB and IT risk and assurance specialist Ernst and Young.
Ruxcon 2011 is shaping up to be just as successful. Some of the topics of interest by the conference paper committee include:
Mobile Device Security
Virtualization and Hypervisor Security
Cloud Security
Malware Analysis
Software and Hardware Reverse Engineering
Forensics and Anti-Forensics (including eForensics)
Embedded Device Security
Wireless Network Security
Social Engineering Attacks
Telecommunications Security (SS7, 3G/4G, GSM, VOIP, etc)
Ruxcon presentations run for one hour.
A number of social activities and competitions are held over the weekend. These competitions will allow novices to improve their basic skills, while experts can test their skills against their peers, with everyone having the opportunity of winning prizes and having some fun.
One such opportunity to have some good clean hacking fun is the Ruxcon 2011 Capture The Flag (CTF) competition which is run over the period of the conference. Played as an individual or as a team, the Capture The Flag event is run for the duration of the conference, can be played over a wireless network, and is accessible to beginners but also ranges in difficulty to provide a challenge for more experienced players.
Ruxcon are looking for a group interested in running this year's CTF.
If you or your company have a team of dedicated people who are interested in the design, set up, and running the CTF competition, please send an email to staff () ruxcon.org.au with a proposal outlining your idea for the competition. Ruxcon staff are able to lend a hand helping out with the design of the competition and the running of the competition.
Last year the CTF competition attracted over 60 participates and ran for the duration of the conference. Further information is available at the ruxcon website.