No NPfIT black box to be found
If the NHS IT scheme, the NPfIT, were a jumbo jet, its frequent crashes would have putfear-of-flying courses out of business.
But because the NPfIT...
If the NHS IT scheme, the NPfIT, were a jumbo jet, its frequent crashes would have putfear-of-flying courses out of business.
But because the NPfIT is not an aircraft crash, there is no wreckage. The damage is not visible. The Trust's undiagnosed, sick, or injured patients have been on a hidden waiting list,lost in the systems. As delays in their treatments are below the perception of the general public they don't seem to matter.

Download this free guide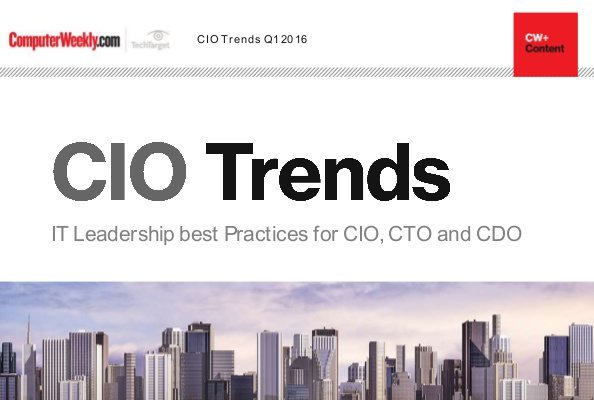 Your exclusive guide to CIO trends
A collection of our most popular articles for IT leaders from the first few months of 2016, including: - Corporate giants recruit digitally-minded outsiders to drive transformation - Analytics platforms to drive strategy in 2016 - Next generation: The changing role of IT leaders.
By submitting your email address, you agree to receive emails regarding relevant topic offers from TechTarget and its partners. You can withdraw your consent at any time. Contact TechTarget at 275 Grove Street, Newton, MA.
You also agree that your personal information may be transferred and processed in the United States, and that you have read and agree to the Terms of Use and the Privacy Policy.

The disorder we've highlighted this week at Barts and The London NHS Trust, a yearafter it went live with the NPfIT Cerner Millennium Care Records Service, is the most serious problem to afflict the national programme.
The trust's managers are uncertain who among their patients have gone untreated within the government's 18-week target. They have been trying to reduce a waiting list of more than 2,100 patients on their 18-week waiting list.
Some of the trust's patients have been discovered months after they should have been treated. When patients go untreated they are likely to get worse. Some might now be seriously ill because of the delays. We don't know. Worse, Barts does not know.
Fortunately the NPfIT is not an aircraft crash. So there is nothing unsightly for the the TV cameras to broadcast across the world; there is no public clamour for information; no demand for the common causes of all the crashes to be quickly established.
What there is, however, is the figure of NPfIT minister Ben Bradshaw, announcing that he and his advisers can see clearly now, and that the national programme is generally doing well. It should rollout more quickly, he says.
But every time there is a crash Bradshaw is advised that the lessons have been learned from earlier failures and improvements have been made in the delivery model: trusts will be able to "localise" and "tailor" the Cerner system; and there will be closer working between clinicians and solution providers.
He is told that there are always challenges with early adopters of complex IT solutions; they get over them; time heals. He is told that the Royal Free in Hampstead lost some patients on its waiting lists. But the London Acute Programme Board (no names are mentioned)now has confidence in the stability of the systems.
But he is unlikely to have been told that doctors at the Royal Free continue to express their concerns to the board about the Care Records Service implementation.
The result of ministerial complacency is that accident trouble-shooters now have clearance to drive to the next Care Records Service implementations in Kingston, Bath, Bristol, and to London's Imperial College and St George's.
The patients at these hospitals should welcome, and benefit from, the influx of NPfIT experts. But if history counts for anything, they have every reason to fear them.
The reason the effects of Thalidomide on babies went undetected for so long was that the Department of Health did not want to know. Each GP report of an infant deformity was treated as an isolated case. When the Sunday Times began to investigate there were more than 1,000 "isolated" cases.
At one level it's wrong to compare NPfIT delays with the horrendous effects of Thalidomide.
On the other hand, thousands of patients had appointments lost and delayed after the introduction of the Care Records Service implementations at Barnet and Chase Farm, Weston, Milton Keynes, the Royal Free and Barts and The London. Are all these isolated cases?
It's one thing if nobody is held accountable for the failure of a big IT project or programme. It's quite another if the unaccountable government machine runs over the sick and injured, stops for a moment to look back at the damage done, re-adjusts the bumper, and then carries on much as before.
Box
The solution?
The small-scale NPfIT implementation at Morecambe Bay, where IT specialists went live with part of the NPfIT Lorenzo system, was exemplary. It was very small scale and planned on the assumption it would fail.
Morecambe Bay is a small community: nurses told Computer Weekly they know many of the patients or their families. They didn't want anything to go wrong. They duplicated manually everything done on Lorenzo. It was a lot of work for small gains. But it builds confidence. It is safe.
Morecambe Bay is an example of a trust which would refuse to test the Care Records Service on patients. Just one patient who suffers as a result of an ill-tested implementation is one patient too many. Yet thousands of patients in the London area might have suffered. That's a disgrace the government and its advisers may never live down.
We don't blame Barts and The London, or the other trusts which implemented the Care Records Service to their cost. They were pressed to implement the system, and given help and incentives as early adopters. But political expediency on the NPfIT must never again suppress reason.