Short CIO tenures paralyze IT
Companies with unstable CIO positions are short-sheeting not only IT, but their business objectives as well. Want long-term success? Keep your CIO.
When Larry Bonfante became CIO of the United States Tennis Association (USTA) five years ago, the IT department he inherited was in rough shape. Bonfante was USTA's fourth CIO inside of six years. A lack of consistent leadership had taken its toll.

According to Bonfante, his predecessors had not been very successful in terms of delivery of IT services. There was a lack of effective communication among IT, key clients and the board of directors; no effort was made to secure relationships with clients and stakeholders; and within the IT team itself, morale was poor.

Download this free guide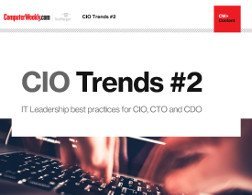 Your exclusive guide to CIO Trends #2
Access the collection of our most popular articles for IT leaders to help you get prepare for post-Brexit world, make use of "bimodal" IT strategy and blockchain technology.
By submitting your personal information, you agree that TechTarget and its partners may contact you regarding relevant content, products and special offers.
You also agree that your personal information may be transferred and processed in the United States, and that you have read and agree to the Terms of Use and the Privacy Policy.

It was very clear that I had a very short horizon to turn things around.
Larry Bonfante
CIOUnited States Tennis Association
"People felt like they were on a ship without a rudder," he said. "To the broader organization at large IT was very, very poorly thought of."

For exactly these reasons, the days of the 18-month CIO may be a thing of the past. In 2005 a survey by Cambridge, Mass.-based Forrester Research Inc. found that the average tenure for CIOs at large companies was 3.6 years. Still, last year's Salary and Careers Survey by CIO Decisions revealed that 28% of responding CIOs had been on the job for just two years or less. Thirty-four percent had been on the job between two and five years.

As a result, many CIOs step into situations like the one Bonfante found himself in at the White Plains, N.Y.-based not-for-profit organization that runs the U.S. Open. A cycle of constant leadership turnover had left USTA's IT organization paralyzed.

"There was a great reluctance when I got here to even waste time talking to me," Bonfante said. "'Why should I bother even talking to this guy? He'll be gone in a year anyway.'"

June Drewry, global CIO at The Chubb Corp., the Warren, N.J.-based insurance giant, said a CIO needs at least five years to get things on track.

High turnover means, at best, a CIO can address tactical short-term needs. But, Drewry said, "if you need long-term change to your infrastructure, you're not going to get that done in a few years."

Drewry was part of a CIO shuffle with a previous employer. She was one of four CIOs who cycled in and out of a company within two years.

"I could tell you that the organization had done nothing but reassess itself and reset strategy and nothing got delivered," Drewry said. "The IT team got blamed for it, but I can tell you, it's a failure of management."

In the case of a tenure of two, three or four years, there is a lot of legacy that a CIO needs to deal with -- the decisions of three or four predecessors, said Bob Rouse, director of the Regional SIM Leadership Forum and a professor of computer science at Washington University.

"I see many CIOs hired to solve a specific problem for a company," he said. "He's given a specific charge and he is expected to perform that task in a specific period of time. The CIO is often able to make a contribution toward solving the problem he or she was hired for. But to have a broader impact on an organization requires more time and energy than that."

Rouse said a very good CIO might work for a company for three years and move it in the right direction, but when that CIO leaves, the company almost has to start over again.

"I see it with the vendors, too," Rouse said. "Vendors have to go and remake their relationships with the firm. The amount of time spent getting a new relationship built takes a year and a half. That's half the CIO's tenure."

Laurie Orlov, vice president and research director at Forrester Research, said a two or four-year tenure for a CIO hurts an IT organization's ability to sustain long-term strategies and long-term change.

"Career path succession plans, rotational practices, agreement on implementation of standards, standardizing enterprise architecture, all these things take a long time," Orlov said. "If the CIO is in and out on a two to four-year time frame, they are not completing those things. And usually when a CIO leaves there is some turnover below them."

Orlov said some CIOs are hired with a specific mandate to transform the organization, whether replacing old systems, supporting a merger or acquisition, or replacing a data center. A CIO hired for a big change might be less focused on the rest of the organization. Orlov said he might even delegate managing the organization to his direct reports. These "transformational" CIOs tend to leave after their big change is completed.

Bonfante said he knew the USTA was prepared to show him the door if he didn't turn things around quickly.

"It was very clear that I had a very short horizon to turn things around," he said. "Clearly they did not have any compunction about jettisoning the person in my office. They'd done it three times in the last six years. The focus wasn't on stability. It was on turning things around."

At the beginning of his tenure, Bonfante made it a priority to build relationships with key people in the USTA. He set himself up as an intermediary between IT and the business.

"I tried to make sure that they would know me and what I'm all about," Bonfante said. "When they bring something to me, I take it to heart and act on it."

Within six months, Bonfante knew he was turning things around, but it took two or three years to really get things in order.

"There's two phases in an IT turnaround," he said. "First is doing things better. And the second is doing better things. After year three we were doing things better. With service delivery and project delivery we were doing a good job. At this point we were viewed as a business partner.

"I was brought here as a 'turnaround' CIO," Bonfante said. "Now that we've turned things around, we have an opportunity to become a strategic partner of business. I think some CEOs have a simplistic view of it. Depending on what their experience with IT has been, [CEOs] might not have an accurate view of what kind of roles CIOs can play."

Let us know what you think about the story; email: Shamus McGillicuddy, News Writer
Read more on IT for small and medium-sized enterprises (SME)