ERP implementations may fall short for hasty SMBs
Researchers say small companies are making a mistake if they focus on speed of implementation with an ERP system. At least one small manufacturer says speed is inevitable when you're small.
Small businesses that take the plunge into enterprise resource planning (ERP) tend to go live with their ERP projects faster than midsized and large businesses.

Speed is often a virtue, but businesses that focus on it as a measure of success tend to overlook the true potential ERP has for transforming their operations.

Download this free guide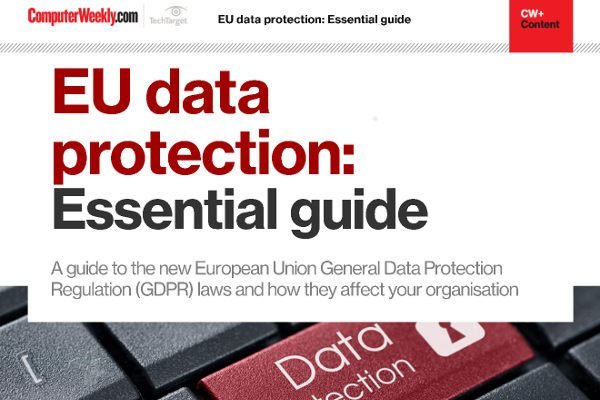 D-Day: 25 May 2018
Prepare your organisation for GDPR: Find out the key actions to take and discover the challenges as well as opportunities
By submitting your personal information, you agree that TechTarget and its partners may contact you regarding relevant content, products and special offers.
You also agree that your personal information may be transferred and processed in the United States, and that you have read and agree to the Terms of Use and the Privacy Policy.
We did put a lot of up-front time into understanding the system.
Jenny Wieser
COOFischer & Wieser
Specialty Foods Co.
"There is more focus in smaller companies on just getting things in there, which is probably why they're so fast," said Cindy Jutras, vice president of manufacturing and ERP research at Boston-based Aberdeen Group Inc. "At the same time they seem to stop short of taking it to the next level. They get in there, and then they kind of stop."

According to an Aberdeen survey of 1,200 manufacturers about ERP adoption, 86% of small companies achieved their first "go live" milestone within their first year with ERP, whereas midsized companies reached "go live" in less than a year just 64% of the time and large companies just 47%.

Jutras said 24% of the 450 small businesses (companies with less than $50 million in revenue) surveyed measured success by the amount of time it took them to reach their first "go live" milestone.

Jutras said small companies look for a quick launch because of limited resources. There's only so much time they can devote IT and business staff to getting an ERP system up and running.

Speed is a virtue, but not when it's a measure of success, Jutras said. There are better performance metrics to measure for, she said. Without them, small businesses won't be getting the most out of their investment.

"I think they get up and running faster than larger companies but they don't necessarily use all the functionality that they have available to them," Jutras said. "There is still a huge reliance on things like spreadsheets. Management by spreadsheets is alive and well not only in small manufacturers but predominantly in small companies."

Successful implementations are more likely among small businesses that actually set out metrics for measuring return on investment (ROI) and cost savings. Jutras said her survey revealed that less than one-third of small businesses actually compute ROI for ERP.

Eric Klein, research analyst at Boston-based AMR Research Inc., said small companies often are nervous about getting bogged down in the complexity of an ERP implementation. That nervousness partly explains the slow growth in ERP adoption among small businesses.

Klein said vendor revenue from ERP adoption among small customers -- those with revenue less than $50 million -- grew by just 3.3% last year. It's the midmarket firms, with revenue between $50 and $250 million, that are seeing the robust adoption rate at 17%. And ERP revenue grew by 13% among companies with $250 million to $1 billion

"There is a mindset of ERP being too complex," Klein said. "I think a lot of businesses are afraid of how long it will take to make it work."

Jenny Wieser, COO of Fischer & Wieser Specialty Foods Co., a Fredericksburg, Texas-based manufacturer, said her company wanted to go live quickly with a new ERP implementation. The requirement didn't prevent her company from getting the most out of its investment, however.

Wieser said she wanted a new ERP system to help get a handle on her company's inventory control, its purchasing and accounting processes. The company also wanted to implement a CRM system.

"One of our biggest nightmares was inventory control. We were in a system that really wasn't suited to manufacturing," Wieser said. "When we went out to do a physical inventory, we knew we were going to have a big variance and we never knew what direction it was going to be going in. We were able to service our customers, but it was at a real expense to us."

Wieser said her company was able to conduct mock mandatory recalls of a product within four hours, as required by regulators, but the process required "mounds of paper and several people digging through manual lot systems in order to trace where products and been and where they had gone."

Fischer & Wieser purchased Business One, SAP's integrated ERP suite for small businesses, nearly two years ago. The company went live with its implementation in three months.

"We went live quickly, but we were able to go live quickly because we were so small," Wieser said. "We did put a lot of up-front time into understanding the system. The team that we assembled could do every part of every transaction in the system."

Now a mock product recall at Fischer & Wieser takes just five seconds instead of four hours, Wieser said. When her company does a physical inventory check, the results vary by only 3% or 4%, instead of 30%.

And although the company went live with its SAP system in just three months, it's still finding new value in its technology investment. The company definitely hasn't settled for just getting the thing up and running.

"We went live two years ago this July," Wieser said. "At about the one-year mark, I'd be walking around and people would say to me, 'Did you know we could do this?' It's like light bulbs are going off in the entire company. We're exploring and using the system better than we ever have. We're so excited. Once we got the core processes in place, we've really started to use the system, to learn and utilize it more."

Let us know what you think about the story; email: Shamus McGillicuddy, News Writer
E-Handbook

E-Handbook

E-Handbook
Read more on IT for small and medium-sized enterprises (SME)