CIOs should use the downturn to plan for long-term investment opportunities rather than focus on short-term survival tactics.
Mark Blowers, lead analyst at Ovum Research, says that CIOs have a critical role to play in helping businesses exploit innovative technology, if they can take a step back from the immediate economic pressures.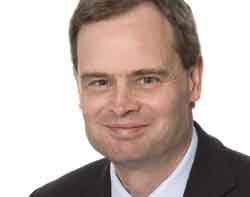 "Over the past few years the economic focus has been on cost efficiency," he says. "But its important that CIOs detatch themselves from fire-fighting and costs, and try to focus on innovation."
---
Sign-up to Computer Weekly to download Ovum's report on CIO trends for 2011.
---
The main focus of many organisations is cost-cutting, says Blowers, and this makes it difficult for CIOs to take a more strategic view. But it's vital that they do so if businesses are to benefit in the long term, he says.
"In some respects strategy is influenced by the latest crisis. It's not always at the front-of-mind for many CIOs," he says. "They need to be able to find the time and plan and work out how to make the most of technology.
"You have to be more involved in the strategic area, rather than the specifics of the technology," he says.
Ovum advises CIOs to use the downturn to forge stronger links with the rest of the business.
"Its about getting engaged in the business and getting integrated in the way the business works and identify new ways of working," Blowers says.
"We have talked over the past few years about IT business alignment. Its much more than that. Its really integrating and getting engaged with the organisation," he says.
Disruptive technologies, such as collaboration tools, and mobile devices, will help businesses cut costs, and lay the foundations for future growth, he says.
---
Sign up to Computer Weekly to download more reports from Ovum:
Cloud Computing - 10 tips for IT departments and suppliers
Security trends to watch in 2011
Business tips for using SMS and web chat
The cloud computing strategies of major telcos
Using datacentre automation to cut running costs
Network sharing - is it time to rethink the structure of the mobile industry?
Email Alerts
Register now to receive ComputerWeekly.com IT-related news, guides and more, delivered to your inbox.
By submitting your personal information, you agree to receive emails regarding relevant products and special offers from TechTarget and its partners. You also agree that your personal information may be transferred and processed in the United States, and that you have read and agree to the
Terms of Use
and the
Privacy Policy
.