Royal Mail shuts down post code programmers
Legal action by the Royal Mail is stopping job seekers from using the internet to find jobs near their homes, it was claimed today.
Royal Mail has...
Legal action by the Royal Mail is stopping job seekers from using the internet to find jobs near their homes, it was claimed today.
Royal Mail has sent a "cease and desist" letter to Ernest Marples Ltd, the organisation that provides a post code API (application program interface) that allows other web sites to use post code searches.

Download this free guide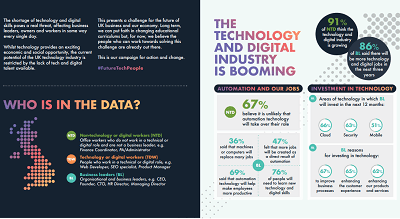 Infographic: Future-proofing UK technology
The shortage of technology and digital skills poses a real threat, affecting business leaders, owners and workers in some way every single day. Whilst technology provides an exciting economic and social opportunity, the current potential of the UK technology industry is restricted by the lack of tech and digital talent available. This presents a challenge for the future of UK business and our economy. Long term, we can put faith in changing educational curriculum but, for now, we believe the people who can work towards solving this challenge are already out there.
By submitting your personal information, you agree that TechTarget and its partners may contact you regarding relevant content, products and special offers.
You also agree that your personal information may be transferred and processed in the United States, and that you have read and agree to the Terms of Use and the Privacy Policy.
Several sites have been hit. They include JobCentre ProPlus, which allows job hunters to find a job near where they live. Today its website carried the notice "JobcentreProPlus is currently experiencing technical difficulties because of ongoing legal action by Royal Mail. Our provider of postcode data, ernestmarples.com, has been taken offline because of legal action. Until we find an alternative source, JobcentreProPlus may return inconsistent results."
A Royal Mail spokesman said: " We have not asked anyone to close down a website. We have simply asked a third party to stop allowing unauthorised access to Royal Mail data, in contravention of our intellectual property rights."
Digital rights activist organisation Open Rights Group is campaigning for information developed with public money to be made freely available.
Executive director Jim Killock said it was outrageous that Royal Mail, which is cutting its staff, should be sacking workers and at the same time trying to close a service that might help them find work.
"Post codes were created with public money, so they need to be used for the widest public benefit," he said. "Ernest Marples have been showing how this can be done. Their ideas need to be legalised for non-profit use, not shut down. Intellectual property rules need to work for society, not the other way round."
Killock said other services facing closure include Planning Alerts, which finds planning applications near your post code, and The Straight Choice, which details election leaflets and their claims by post code.
"An amicable solution to allow non-commercial use of post code data would be easy to create, via a key given only to non-profit organisations," he said.
The people behind ernestmarples.com are programmers Richard Pope and Harry Metcalfe. Metcalfe is also a member of the Open Rights Group's board. He has dissociated himself from the group's campaign on this issue.