Skolkovo Innovation Centre - Russia's Silicon Valley?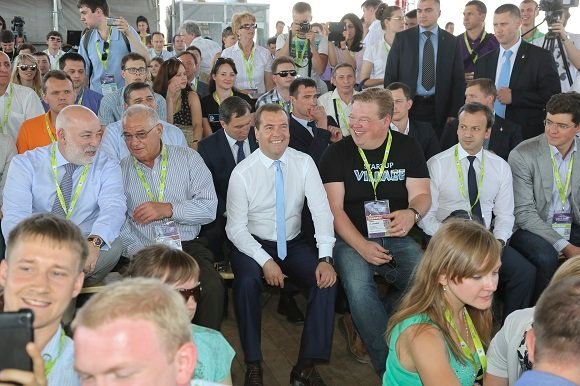 Source:
Skolkovo Foundation
The Skolkovo initiative is a pet project of Russian prime minister Dmitry Medvedev - smiling, with white shirt and blue tie in the centre of the photo - who visited the Startup Village event to meet some of the startups and express his commitment to its future.
Sitting two seats to Medvedev's right is oligarch Viktor Vekselberg - reputedly Russia's third richest man - and owner of Renova Group, a Russian conglomerate that operates in oil, energy, telecoms, aluminium and other industries. Vekselberg is in charge of the Skolkovo project.
The Startup Village event was overseen by Skolkovo vice president, Alexander Chernov, Vekselberg's right-hand man. Officially PR and marketing director for Skolkovo Foundation, the charity that funnels government investment into the project, Chernov has a reputation as a go-to man for big projects and a man who makes things happen for Russia. He was part of the team that won the Sochi 2014 Winter Olympics bid and was chief negotiator for Russia's successful football World Cup bid for 2018. 
The involvement of people as influential as Medvedev, Vekselberg and Chernov is testament to the intent that the Kremlin has to develop an internationally competitive technology sector. Russia sees tech as vital to its global economic development, and aside from Skolkovo it is rolling out fibre broadband to every city, town and village with more than 250 residents, and giving away radio spectrum for free to develop 3G and 4G mobile networks across the country. 
View All Photo Stories