wellignton - stock.adobe.com
National Federation of Subpostmasters cries foul after court ruling on controversial computer system
The National Federation of Subpostmasters said it was misled by the Post Office about the robustness of the IT systems its members use
The National Federation of Subpostmasters (NFSP) has distanced itself from the Post Office's previous denial of problems with the Horizon computer system, and claimed it has been misled by the Post Office about its robustness.
Following a High Court judgment that ruled Horizon was not robust, the NFSP, a subpostmaster membership group, said it was disappointed with the Post Office.
NFSP CEO Calum Greenhow said in a letter sent to members yesterday (Thursday, 19 December): "NFSP members and regional officials own and operate post offices. Many of us have used Horizon since its inception. The NFSP is therefore extremely disappointed by PO's behaviour in light of the verdict that the Horizon system was not fit for purpose until very recently.
"By implication of this verdict, the Post Office has misled the NFSP for years about the reliability of the Horizon system," he said.
Judge Fraser's verdict on Horizon was part of a long-running legal battle between subpostmasters and the Post Office. The plight of some subpostmasters was first reported by Computer Weekly in 2009, when it revealed that the lives of some had been turned upside-down after being fined, sacked, made bankrupt or even imprisoned because of unexplained accounting shortfalls.
Subpostmasters suspected the Horizon system, but the Post Office always denied any issues with it. Judge Fraser's verdict has proven the subpostmasters were right to question Horizon.
After years of campaigning, subpostmasters – led by former subpostmaster Alan Bates as part of the Justice for Subpostmasters Alliance, which he formed in 2009 – took the Post Office to court through a group litigation order.
NFSP criticised
During the first trial in the group action late in 2018, the NFSP was criticised for its closeness to the Post Office. In his judgment for that trial, handed down in March this year, Judge Fraser said: "It is obvious, in my judgment, that the NFSP is not remotely independent of the Post Office, nor does it appear to put its members' interests above its own separate commercial interests."
He also said: "Mrs Van Den Bogerd [Post Office director] also gave evidence that the NFSP has publicly supported the Post Office's view that Horizon is robust. The Post Office therefore relies upon this support by the NFSP to support its stance in this litigation."
In 2015, a letter to members from the NFSP's then general secretary, George Thomson, following a Panorama documentary looking into Horizon allegations on BBC One, said: "Put simply, the NFSP has not received calls from subpostmasters querying Horizon and alleging systematic failings. If there were a widespread problem, our subpostmasters would have made us aware of it. As a result, we have no choice but to conclude that Horizon is a fundamentally sound and safe system."
But according to numerous subpostmasters, the NFSP had been aware of subpostmaster problems for years. In fact, Alan Bates, the former subpostmaster that brought the group action against the Post Office, wrote to the NFSP asking for help in 2002.
In a letter to the then NFSP general secretary he wrote: "For information I have enclosed some documents relating to Horizon and losses over a period of a few weeks when the system was upgraded in 2000. I have been keeping my branch secretary fully informed on the matter, but my letter dated 7 January 2002 to Post Office Limited is meant to clear out the matter one way or another."
One former subpostmaster told Computer Weekly: "It was [NFSP] policy to turn away from anyone who said it could be Horizon."
Institutional obstinacy
In his judgment for the second trial in the group litigation, Judge Fraser said the Post Office had exhibited "a simple institutional obstinacy or refusal to consider any possible alternatives to their view of Horizon, which was maintained regardless of the weight of factual evidence to the contrary".
"That approach by the Post Office was continued, even though now there is also considerable expert evidence to the contrary as well, and much of it agreed expert evidence on the existence of numerous bugs.
"This approach by the Post Office has amounted, in reality, to bare assertions and denials that ignore what has actually occurred, at least so far as the witnesses called before me in the Horizon issues trial are concerned. It amounts to the 21st century equivalent of maintaining that the Earth is flat."
The Post Office and claimants settled the dispute last week out of court. The Post Office agreed to pay £57.7m in damages, apologised, and promised to transform how it works with subpostmasters, as well as making other concessions.
The NFSP letter this week added: "The fact that [Judge] Fraser considers the current version of Horizon to be robust is welcome news – this will be a relief to serving subpostmasters. However, government must also ensure that, going forwards, the status of Horizon is monitored and reported on transparently. It is vital that every subpostmaster should feel confident that the investment they have made in their post office business is not reliant on a flawed system. This will engender trust in the system and Post Office."
Post Office chairman Tim Parker said: "In reaching last week's settlement with the claimants, we accepted our past shortcomings and I, both personally and on behalf of the Post Office, sincerely apologise to those affected when we got things wrong. We have given a commitment to learning lessons from these events, and today's judgment underlines the need to do so."
Timeline of the Post Office Horizon case since Computer Weekly first reported on it in 2009
Content Continues Below

Download this free guide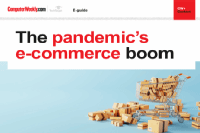 The pandemic's e-commerce boom
The pandemic appears to have solidified e-commerce's ascendancy against the highstreet. Coronavirus has accelerated technology adoption in many sectors, and people have been forced to stay at home, increasing their online shopping habits in a bid to avoid visiting shops.
Read more on IT for retail and logistics