turtl3 - Fotolia
Complex Post Office Horizon case set to continue into 2020
Court case where subpostmasters are suing the Post Office set to span at least four trials and extend into 2020
The High Court battle between the Post Office and subpostmasters, who claim to have suffered life-changing hardship due to a faulty computer system, will see a fourth trial in early 2020.
The size and complexity of the case, which involves evidence that dates back over a decade, is one of the biggest court cases in the UK. The first trial, which began on 7 November 2018, is now finished, with a judgment likely in January 2019.
This is part of a group litigation order (GLO) brought by more than 550 former subpostmasters. They are seeking damages for the suffering they experienced – some were heavily fined, others had to pay back thousands of pounds in shortfalls, and some were even sent to prison – due to unexplained discrepancies in accounts. The subpostmasters blame the Post Office's Horizon IT system for the errors.
The first trial focused on the contractual relationship between subpostmasters and the Post Office. It was one of three trials confirmed at the start of court proceedings. The second trial in March 2019 will put the Horizon computer system – at the centre of the case – under the microscope. A third trial in October 2019 will focus on individual subpostmaster claims.
But closing proceedings at the first trial, Judge Fraser said a fourth trial would be held, probably in early 2020.
The judge said the trial was large and complex and things had not been made easier by a lack of cooperation between the parties involved. "The Post Office didn't even want to have the trial this year," he said.
While discussing the ongoing case with the Queen's Counsel for the claimants and the Post Office, Judge Fraser said: "I don't want to come across as abrupt or unhelpful, but it is a major piece of litigation – I am tasked with resolving it."
A case management conference (CMC) will be held on 31 January 2019, before the second trial begins in March.
Decade-long campaign
The legal battle follows more than a decade of campaigning by subpostmasters. In 2009, Computer Weekly revealed the stories of subpostmasters who had received heavy fines and jail terms for alleged false accounting, which they blamed on Horizon (see timeline below for all Computer Weekly coverage).
Although the first trial has focused on the contractual relationship between subpostmasters and the Post Office, the Horizon computer system has never been far from argument.
Evidence presented revealed a previously undisclosed problem with the Horizon computer system at the centre of a decade-long dispute between the Post Office and a group of subpostmasters. But in documents referred to in court evidence, a known problem with Horizon is described by the Post Office and its IT partner Fujitsu. A Post Office internal memo from August 2010, referred to in court and entitled Receipts payments mismatch issue memo day 1 OP_0008387, reveals that discrepancies showing at the Horizon counter disappear when the branch follows certain process steps, but will still show within the back-end branch account.
Later, during cross-examination, a Post Office director admitted that the Horizon system had made mistakes, which the Post Office was responsible for correcting, but admitted it did not necessarily have to tell its subpostmaster network about the errors. Angela van den Bogerd, when questioned, said Horizon was not error-free. "Overall, [Horizon] is robust, but it will make mistakes and we have to correct them," she said in court.
CCRC investigation decision on hold
Separately, the Criminal Courts Review Commission (CCRC) is reviewing about 30 claims from subpostmasters that they were wrongfully prosecuted for offences such as theft and false accounting, as a result of problems with the Post Office's Horizon IT system through which they file accounts.
Investigators from the CCRC are currently deciding whether to wait for the outcome of a separate High Court trial before making a decision.
A Post Office statement in regard to the trial said: "The Post Office is robustly defending its position in the court and welcomes the opportunity to do so. We take these cases extremely seriously and we have worked hard over a number of years to address the issues raised. We have conducted thorough investigations and sought to resolve some of the claims through mediation.
"Our employees and postmasters are important to us and we take our relationships with them very seriously. We have confidence in our network of 11,500 Post Office branches and the systems underpinning it. The Horizon computer system is operated successfully by thousands of employees, postmasters and their staff to process 47 million transactions every week."
For live tweeting from court see the Twitter account of broadcast journalist Nick Wallis. Also read his Post Office Trial blog.
Timeline of the Post Office Horizon case since Computer Weekly first reported on it in 2009
Content Continues Below

Download this free guide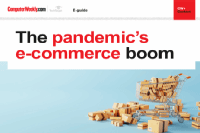 The pandemic's e-commerce boom
The pandemic appears to have solidified e-commerce's ascendancy against the highstreet. Coronavirus has accelerated technology adoption in many sectors, and people have been forced to stay at home, increasing their online shopping habits in a bid to avoid visiting shops.
Read more on IT for government and public sector