VeloCloud takes aim at outcome-driven networking
With corporate network evolution focused on performance, adaptability and lower cost, it begs the question: Can the corporate SD-WAN network optimise on outcomes? Can corporate managers translate desired business outcomes into network performance requirements? Some solution elements are well known: Abstraction & automation combined with hybrid premise and cloud-based processing and storage. But is it enough to get us to outcome-driven networking?
For larger companies with more complex networks and business needs, the first-generation of device-centric SD-WAN didn't really fit. They need a complete service package, that addresses multiple applications and different types of users as well as security and compliance requirements. This has given telcos and network service providers an opportunity to launch SD-WAN-as-a-Service. All they need are new software-based SD-WAN partners.
SD-WAN catering for telcos
Technology from three young companies dominate this marketplace today:
The market leader in SD-WAN for telcos is VeloCloud founded in 2012 (recently bought by VMware – itself bought by Dell). It bills itself as the only SD-WAN company to support data plane services in the cloud. Telco customers include Deutsche Telekom, AT&T, TelePacific and Sprint.
Versa Networks (with Verizon as a major investor) has been deployed by carriers like COLT and Verizon. It provides a multi-tenant solution that can seriously scale. This allows telcos to support large customers and retail service providers on a single platform.
Viptela (bought by Cisco) has been deployed by major carriers including Verizon and Singtel to deliver managed SD-WAN services. The Viptela Fabric is a purpose-built solution from ground-up to provide secure, scalable, resilient WAN applications performance.
From optimisation to outcome
The new element that VeloCloud adds to its Outcome-Driven Networking is self-Learning & adaptation. So, its latest service wrapper provides customers with self-learning analytics at scale and predictive insights in relation to set business outcomes.
In the hybrid corporate network that entails dynamic mid-flow, sub-second steering and remediation of WAN traffic to maintain outcomes as defined on a per-application basis. Companies that need to set up new endpoints, can on-board a new data centre or a recent acquisition, create routes for prioritization, exit points, and transit points – all defined on VeloCloud's GUI. This ensures that traffic is then dynamically routed from branches to the new data centre.
Also security is improved, because users can isolate traffic by segments. Each segment has unique security, business, and access policies. This allows for custom policies on a per segment basis across the network.
Bring on the partners
VeloCloud also brings in a range of partner capabilities as virtual network functions (VNF). So companies like Zscaler, IBM, Infoblox, Symantec, ForcePoint and Radar can insert security services on the VeloCloud Edge to provide firewalls, VPN tunnelling etc. into network function virtualisation (NFV) enabled infrastructures.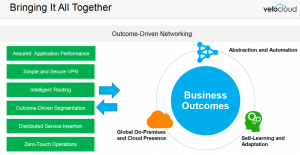 AT&T's Indigo Project
AT&T is using VeloCloud to develop an application-aware concept called 'Indigo', which builds on a software-centric core, and creates a network that is not only software-centric but also data-driven. This is a service concept which blends the software defined network (SDN) with AT&T's ECOMP orchestration platform, big data analytics, artificial intelligence (AI), machine learning, cybersecurity and 5G elements. Together, AT&T believes it will create a new level of outcome driven, data-sharing network for its largest corporate customers.
However…
When virtualisation makes life easier for the WAN customer, it actually shifts complexity to the network and cloud providers. Many of these operators find their progress towards NFV challenged by a lack of technical maturity and the intricacy of operational changes required to virtualise networks. Management of a multi-vendor environment increases complexity dramatically. The shift to NFV requires significant operational changes involving internal processes, culture and redefining the organisational set-up.
Another sticky point to this new approach will be cost. When so many vendors are contributing to the service delivery, how is it going to be priced? Will the distributed services from partners end up as an expensive network architecture for the customers? Consequently, lacking mature standards (open standards like ONAP's Amsterdam are only just emerging), leading edge customers may have a hard time extracting themselves from this service? Buyers should carefully map out the parts of the service that are proprietary.