PentahoWorld 2015: notes from the keynote
How is Pentaho doing under its new uber-parent Hitachi Data Systems (HDS)?
Very well, thank you for asking, said the EMEA chief and the comms lead in a pre-conference informal session prior to this big data analytics driven conference.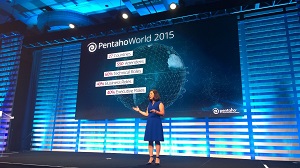 From trains to televisions
Hitachi, it appears has a vested interested in the Internet of Things (and so, therefore, Pentaho's data capabilities) as a company that produces everything from televisions to trains.
All these devices have connectivity these days, so data forms the lifeblood in what Hitachi likes to call 'The Internet of Things that matter'.
(Ed — but ALL devices need love too right?)
NOTE: The event has a heavy Dev-by-Devs developer track, this is a hands on symposium with plenty of coding activity – people getting their hands dirty on interface connectivity… you know the kind of thing.
Pentaho CEO Quentin Gallivan
CEO Gallivan took the stage to claim that the "unstructured element of data is doubling every three months"… much of this coming from the Internet of Things, of course.
The growth areas for the Internet of Things (and the big data analytics that will support it) are in key areas such as predictive maintenance for industrial equipment and smart cities.
The difference, from Pentaho's perspective, is that analytics has to start happening INSIDE the application itself so that it can start impacting application behaviour at the point of impact.
More technical sections of this keynote were delivered by Chris Dziekan — he is big data chief product officer and EVP at Pentaho.
It appears that much of the effort going into working with big data is focused on which data tool mechanics we use…
… auto-modelling (and in-line modelling) in the firm's PDI product can start to build the data model in a more automated fashion. This type of analytical model editing also allows users to engage in the model editing process i.e. a data developer could start to input meta data to help define the schema emerging from a data lake as it comes out of the water.
As also know, big data configuration can be a hard thing to do. Pentaho has been working with its latest release to help create pathways to built in testing and troubleshooting.
Talking about the operations of his firm under its new parent Hitachi, Dziekan said "Hitachi allows us to stretch into new places and scale in new ways, without touching the Pentaho agenda."
…. this blog will expand and link to other stories from PentahoWorld 2015.