A new Huawei smartphone is always a bit of an occasion – and it's usually an occasion that comes with the top brass from HQ flying into town to book out London's ExCeL centre with an accompanying press briefing at a high-end central hotel.
In 2020, things are different, obviously.
To its credit, Huawei could not do a hands-on demo during a pandemic, so it invited the press to sit in a sanitised car and travel through a 'drive-through' demonstration event. Full marks for ingenuity and creativity.
Although the shape of the press launch this year changed, thankfully the device updates didn't and the out-of-the-box and extended use experiences have lots to offer.
Setting up
First impressions… Huawei appears to have managed to 'bleed' the edge of the rounded screen even further around the sides of the device. Huawei calls it a 88° Horizon Display. It certainly gives the impression of holding a 'block of light' rather than just a smartphone… and so into set up.
The (Emotion User Interface) EMUI 11 on Huawei I Mate 40 Series actually supports Eyes On Display using the device's 3D Depth Sensing Camera and Gesture Sensor to detect the user's attention. During set up via the Phone Clone tool we transferred around 10 Gigabytes of data from an older Huawei smartphone at 89 Megabits per second (MB/s) in less than two minutes. Going all-in, we didn't just transfer contacts, calendar and other core apps, we also transferred all music (around 700 songs) in what appeared to be a surprisingly small period of time.
The new unit takes a little while to 'import' and establish all those apps and data and the user is encouraged not to leave (i.e. change) the Mate 40 Pro's screen while this is happening – it flashes light and dark a few times, but there is no need for any user intervention.
All our previous device's apps were transferred over and (unlike the same action on a non-Huawei device) all desktop folders were preserved intact and were positioned in exactly the same place.
There's a significant new set of swipe and gesture controls, but Huawei appears to have built a number of tutorial short-cuts into the operational fabric of the user interface, so we're learning on the go, which is a good thing.
Gone is the normal Android 3-icon option to get back, home, all apps. Now users just swipe upwards to close an app.
The camera is the star
As always with Huawei, the camera (co-engineered with Leica) is a bit of a star attraction. The Ultra Vision cine camera system has Huawei's Space Ring Design and the onboard software for everything from wide-angle to Bokeh (aperture) effect is as enjoyable as it has been on all the other Mate series devices.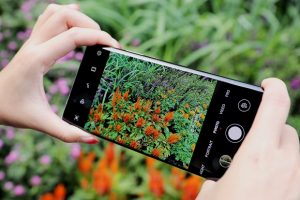 The Huawei Mate 40 Pro carries a small front camera cut-out, which has 3D Face Unlock, an Ultra Vision Selfie Camera and Smart Gesture Control. The ultra-wide angle lens appears to be just a little wider than the Mate 20 series and there's more video technology this time around for what Huawei calls 'cinematic videography' pursuits.
According to the product release notes, "The Dual Cine Cameras feature a 3:2 cinema-style shooting ratio sensor. Capturing high quality footage is easier than ever with Steady Shot, while the XD Fusion HDR Video ensures balanced exposure, even when users are capturing with extreme lighting contrast. Other evolutions include Tracking Shot, while Story Creator allows for true cinematic effects. Background music, filters and effects can also be added with ease."
The device has a Periscope Telephoto Camera to support 10x hybrid zoom and 50x digital zoom. The 50x zoom is very powerful and probably only best used if you can put the device down on a flat solid surface to prevent hand-jiggle… although, there is smart algorithm technology at work to auto-correct some human errors.
Down in the Kirin 9000 processor area, the device is built for what Huawei calls 'intensive computations and multi-tasking operations'… and the power efficiency has been improved in line with the device progression roadmap. The 5G SoC itself has more than 15.3 billion transistors.
Game on
The 24-core Mali-G78 GPU in the Huawei Mate 40 Pro is designed for games-level graphics… and we're talking about higher-end first person shooters and fairly graphic intensive game applications.
The Smart Gesture Control allows total hands-free control of your device. The on-board tutorial takes you through how this works, it's kind of strange and not easy to master, but we weren't used to pinch-and-zoom 10-years ago, so this could well be something that we get used to.
New apps include Petal Search (Huawei's stab at the browser market)… and this is an app that the company says supports 'multiple types' of searches; so your search can be related to Petal Maps (the company's stab at the maps market) and Huawei Docs (the… no wait, you get the idea now right?), which is a unified word document service.
EMUI 11 also introduces an Email Conversation Mode, which converts traditional email threads into conversations. While normal 'conversation' functions are (for us at least, very annoying) this feature attempts to do things a little differently and hides redundant parts of conventional emails – such as lengthy sign-offs – from sight and puts the focus on the conversation.
The voice assistant is called Celia, presumably that must translate well into not just Chinese (Huawei's homeland, obviously) but also the other languages and markets that the company trades in.
Talking of China, Huawei promises that Huawei adheres to its privacy protection principles of no disturbing, no tracking and no exposure so that we have full awareness and control over personal data.
Overall impression
So then, for overall impression… Huawei has pretty much updated almost every aspect of the device at it now sits at Mate 40 and Mate 40 Pro series from the previous Mate 20 series. There are a few tiny things that are nice to see (you can use bokeh in camera landscape mode rather than the weird portrait only function that cropped up in the Mate 20) and there are the big developments like the gestures, the Petal Search function and the overall general beef-up of the processor and GPU. The device supports wireless charging but wouldn't wireless charge on our docking station that works fine with a Huawei Mate 20 Pro, but that could be the charging station's fault and not Huawei's. One almost has to stand back and wonder, well, if they (Huawei) put all these things into the Mate 40 and the company probably has the Mate 60 (or could it be the Mate 80) on its roadmap, then what is it thinking of rolling out into the next generation of its product line? As it sits today, this is effectively a PC scaled down to the size of a smartphone and you can quite comfortably work on it with a wireless keyboard if it takes your fancy (it does with us, that's just one of our things that we like to do on planes and trains etc.), so it's perhaps no surprise that Huawei has already entered the laptop market with its Honor range as it seeks to build out its device portfolio further.
The new Mate 40 Pro retails at RRP: £1099.99 from the Huawei Store, as well as selected operators and retailers including EE and Three.