First look: Microsoft surface tablet refresh
Guest blog post by Simon Bisson
We went along to Microsoft's event in New York yesterday to see it unveil its next generation Surface tablets, with new versions of its ARM and Intel-based hardware.
As sequels go, this is Star Trek: The Next Generation to the original Surface's Trek. Under similar exteriors the hardware has had a complete redesign – tweaking the power and performance budget to deliver the performance users want, with the battery life they expect.
Surface Pro gets a significant performance boost with a switch to Intel's Haswell processors. That's not the only change though, as Microsoft has been through every system looking at power and performance.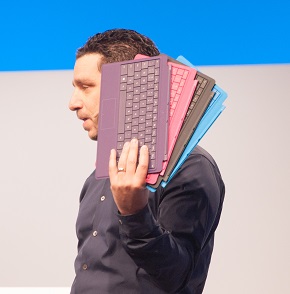 The result is not just a significant performance increase, but also significantly more battery life. Microsoft will be rolling out more storage options, adding a 512GB version to the 64, 128 and 256GB Surface Pros currently shipping
New accessories make it easier to justify Surface Pro as a business ultrabook on a par with Apple's MacBook Air. The Power Cover (due in 2014) adds a 30Wh battery that charges a Surface while it sleeps, in a cover only a millimeter or so thicker than the current Type Cover, while a desktop docking station supports dual DisplayPort monitors while adding extra USB and Ethernet ports. A new adjustable kickstand on both devices improves the range of viewing angles, while making surface more comfortable on your lap.
The ARM-based Surface tablet gets much more of a refresh, coming out the other end thinner, lighter and faster (as well as white). NVIDIA's Tegra 4 processor is a significant upgrade over Tegra 3, with 7 graphics cores. Microsoft will be shipping the renamed Surface 2 with a full version of Office, including Outlook, while also upgrading the display from 720p to the same 1080p HD display used in the Surface Pro.
Hands-on time at the launch was limited, but compared to the current Surface family the new devices seemed much faster, and much more responsive. That's a good sign, as Microsoft is planning to use Surface to showcase much of its new devices and services business model – bundling both ARM and Intel versions with a year of premium Skype service (including WiFi hotspot access) and with two years of 200GB SkyDrive storage.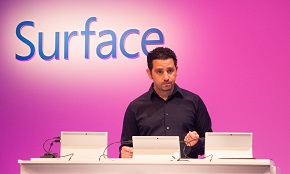 While changes to tablet hardware are important, the real change for Surface comes with a new generation of its Touch Cover keyboards. While Microsoft has done the seemingly impossible and added backlighting to the Touch Cover, it's also taken the original 80 sensor pressure sensitive keyboard and replaced its keys with a grid of more than a thousand touch sensors.
That change means a more flexible keyboard design, with support for new touch gestures – as well as the possibility of new, task-specific keyboards in the future. Surface's designers are calling these new keyboard alternatives "blades", with a pilot pressure-sensitive music controller blade launching as part of the Surface Remix Project.
Microsoft's Surface project remains very much alive, despite a challenging first year. New hardware and new accessories look set to breathe fresh life into the devices side of Redmond's devices and services strategy.
Its lighter, more powerful tablets are impressive at first sight, and while an in depth look at the new hardware will have to wait until launch on the 22October (with pre-orders opening on 24 September), we're cautiously optimistic: Surface has a future.