Competition/Game: Play our F1 racing game and win!
Ready, set and… GO GO GO!
The F1 season starts this weekend and we've got an F1 flash game and competition to celebrate.
If you can complete a lap in the fastest time then you have the chance of winning the chance to drive speed around Silverstone and experience first hand what its like to be Lewis Hamilton.

Download this free guide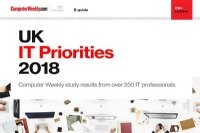 The future of UK tech: Cloudy with a chance of Artificial Intelligence
The forecast for the future is in and, in typical British fashion, it looks like it's going to be cloudy. Our IT Priorities survey has revealed that organisations are planning on making the most of the cloud in the future. Download our IT Priorities results for more insights into where the IT industry is going.
So if you love motor racing and fancy the chance of driving a car around the motor racing track that is the home of the British Grand Prix then take part.
<>