Brightline ZELo: Enhanced lighting for desktop videoconferencing
There's that moment of doom when you're on a pre-call prep-call for a professional video job and the 'producer' gets to speak to you about your lighting. These people live in a world of rigs, boom arms and lighting umbrellas that us 'normal folk' never normally get to enter.
"Well, these are the lights in my house, what do you want me to do about them?" – if you've said this out loud to the producer person, then you'll know the tension we're referring to.
In this age of working from home and the Zoom generation, many of us are now looking to make sure we use a high-resolution wide-angle video conferencing camera. Some of us are also aiming to look after the sound element of our online presence and get a professional (or at least higher grade) microphone to make our Zoom voice (other video collaboration platforms are also available) just that bit sweeter.
If we're looking after sound and vision in this way… and we've had the producer-lighting-experience conversation, then the next piece of hardware has to be the lighting.
We were keen to try out the Brightline ZELo to see what kind of difference it makes.
The company is a manufacturer of video lighting systems and the ZELo is a desktop studio light specifically built for videoconferencing — the product is priced at US$199 (£140 at the time of writing) and the Brightline shopping page will calculate shipping costs for you here.
The company says its product is designed for business professionals, educators (especially teachers who engage in distance learning), broadcasters and social media influencers, the latter of which could include Inspect-a-Gadget if we may be so bold.
Brightline says it has fans among broadcasters who produce webcasting news reports from small or remote studios; and analysts and other public figures who regularly participate in television interviews from home.
"ZELo was constructed to meet the critical lighting requirements of broadcasters, but it's affordable enough for a wide range of users," said Kathy Katz, Brightline managing partner. "Online classes and conferences aren't going away. With ZELo, your audience can concentrate on your message instead of poor imaging."
Product test feedback
So it's a light, is that it? This is what our testers thought of this product.
Firstly, it's solid and we mean solid. The stem, adjustable screws and base are all solid metal and so it's heavy-duty and well-built for sure. So much so that assembly is probably easier if you have a friend with you i.e. you'll need someone to hold the lighting arm while you screw the Allen-key (aka hex key) bolts
With variable colour temperature, ZELo offers warm light (2700 degrees) to daylight (6500 degrees), so it blends with any ambient room light environment.
The daylight (white light) is good for working and we imagine it's probably best suited to videoconferencing. If you happen to have your laptop pointing at your face with an external light source window behind you, this unit is powerful enough to completely fix shadow issues and the user will appear on-screen in clarity as this before and after video linked here shows.
The variable colour (warm light) option is supposed to be able to cure Seasonal Affective Disorder (SAD) or at least help it. We're not a bunch of circadian rhythm scientists so don't take our word for it, but having the warm setting on while working is a nice feeling. We tested this in our London, UK labs on a day when it was 1-degree C outside… and it was a nice experience.
There's a nice touch-sensitive slider control panel on the front of the unit to control both lighting brightness (top slider) and warm-to-cool degrees of lighting (bottom slider), as well as an on-off switch on top.
Users can also download a free app (look for the logo shown on the right) to control their Brightline ZELo — and ZELo supports voice control through Alexa and Google Assistant devices.
An app, for a light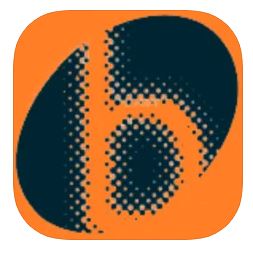 Quite why you'd want to control a light with an app is (arguably) a questionable function, especially given that the user will be 'at the desk' i.e. in front of the light within touching distance while using it.
The Brightline ZELo app manuals and datasheet are all listed here. The instructions specify use of 2.4 GHz WiFi networks only and not 5 GHz WiFi, but we downloaded the app and switched between the two and were still able to control the light. The Apple iOS app is one of those scaled-down non-optimised apps where you're looking at what is essentially a smartphone app 'floating' inside your screen, but hey it works if you really don't want to touch your Brightline ZELo with your finger… and it's got a lovely enameled finish on it, so why wouldn't you want to touch it?
"The ever-expanding use of Zoom and other videoconferencing tools brought on by the rapid growth in remote video has shown us all how important it is to have high-quality personal lighting," said Katz, Brightline managing partner. "ZELo can be adjusted and customized to work with any office or home office setting. Whether you're teaching an online class or conducting virtual meetings, use ZELo for every on-camera hello."
ZELo can be adjusted to create the desired lighting angle and a telescoping arm raises and lowers the light to provide clearance over a user's desktop or laptop monitor. Finally, let's also note, the Brightline ZELo is rated for 25,000 hours (which equates to about 3-years of back-to-back videoconferencing), so the LED bulbs should last you for most of this decade and perhaps more.