Shure shores up for sure sounds: MV5C & MV7 microphones 
Inspect-a-Gadget has a confession to make – we have been shouting at our laptop.
Okay if not quite shouting, we have certainly been 'projecting' at the built-in microphone during Zoom calls, Bluejeans meets, Google-based video connections, WebEx and more besides.
It seems obvious to say it once you've made the change, but moving to a professional video camera with clear-view technology, wide-angle lens and dark lighting intelligence makes all the difference in the lockdown era of online virtual meetings… and the same is true for how you connect with your voice.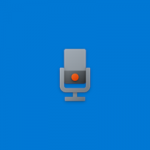 Open Microsoft's Windows 10 Voice Recorder app (the one that's pre-installed when boot-up your machine) and you can use it as a validation tool. We did this with the Shure MV5C Home Office Microphone and the difference is profound.
You never think of the playback from Windows 10 Voice Recorder as 'tinny', until you hear the difference. The Shure MV5C provides that really 'close up' soft-toned sound to your voice, just a little like a radio DJ would sound like, but without the whoops and the top 40 countdown.
How does it do that? This directional microphone features Shure's Speech Enhancement Mode to enhance the user's voice on audio or video calls for even clearer sound.
The product itself is designed for office-based professionals, but also for people like teachers tackling the world of distance-learning. There are of course times when a general pick up of voice is enough… and other times when crystal clear audio actually makes a difference is it's a mission-critical task.
Intentionally simplified set-up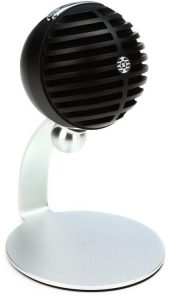 Shure says its MV5C Home Office Microphone set-up process is 'intentionally simplified' and that's pretty much the case, you can just plug it in and go. You can open a voice recorder app and lightly brush the casing to see that your finger noise is indeed being picked up.
The set-up also provides different audio modes for 'set it and forget it' applications.
Headphones are optional, allowing users to take a break and listen through the computer's built-in speaker or external speakers. The microphone is compatible with Mac or Windows devices by using the supplied USB-A or USB-C cables for a direct connection.
"With nearly everything now operating from home – TV productions, education, health and wellness and our everyday work – [people] quickly realise the need for improved audio in these settings," said John Born, senior global product manager at Shure.
Born claims that this is 'studio-quality sound for the home office' and he points to the retro-inspired design (it looks a little like an old RCA 'ball end' microphone) that sits on an adjustable stand.
The MV5C Home Office Microphone is available from Shure's website and retailers at £115.
One step upwards for pros
Inspect-a-Gadget will grow up one day… and when we do we might be able to progress to Shure's other key microphone in this part of its product line. The Shure MV7 Podcast Microphone is targetted at podcasters, gamers and vocalists for whom professional-level audio production is paramount.
This is a hybrid XLR/USB microphone… with XLR meaning the electrical connector primarily found on professional audio, video and stage lighting equipment.
"This year, we've witnessed a significant uptick in the demand for tools and accessories that support live streaming and podcasting – especially as many continue to broadcast their talents from home," said Soren Pedersen, associate manager, global product management, at Shure.
Pedersen says that the MV7 is 'laser focused' on the user's voice, so the audience always gets a clear and rich reproduction no matter the type of room they record in.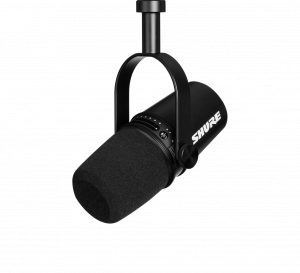 But what does laser focused on voice really mean? Well, it means that this device uses Shure's Voice Isolation Technology which 'elevates' the user's voice. If it were used in the street or at an event (or you're podcasting in a busy crowded place) then this works to really zone in on the speaker or speakers. Although we tested the product during UK lockdown, we turned on a couple of TVs and a radio to simulate background white noise and the functionality here is both real and strong.
On that outdoor broadcast point for on-the-go recordings, the MV7 works with select Android devices. A Lightning cable is available separately for use with iPhones and iPads.
This microphone also uses the company's ShurePlus Motiv software, which really helps to cut out any background noise and allow the user to tune up (literally) the way the sound being recorded is going to be digitally encoded. There's also an Auto Level Mode if you're still inclined to 'get bit a shouty' and potentially push the [virtual] needle over into the red.

According to Shure, a user's vocal level and mic position are always fluctuating. So Auto Level Mode sets 'gains' perfectly in real time, so the output levels stay consistent. This enables creators to focus on the content, and not on their mic technique, resulting in less time editing post-recording, and more time creating.
The company also points to its integrated touch panel. With a few taps, the touch panel control lets the user adjust the gain, headphone volume, monitor mix and mute/unmute, with an option to lock customized settings.
Shure MOTIV App
It's certainly worth downloading the free Shure MOTIV App for desktop if you are going to use this product. Users can select their tone (Dark, Natural, or Bright), depending on if they want a deep "radio" voice, or a crisp and clean sound.
Similarly, users can select their mic distance from the MV7 (Near or Far), depending on how they are positioned.
As well as the professional XLR output for use with interfaces, mixers, and professional audio equipment, the Shure MV7 also supports a USB-A and USB-C output for Mac and PC.
The only drawback is that Shure hasn't automatically bundled a stand or boom arm, unless that is you opt for the boom arm and headphone bundle that the company sells as a separate deal. That being said, a compatible boom arm should cost no more than around £20 from Amazon.
The MV7 Podcast Microphone comes in two colors (black, silver) and is available at www.shure.com and a choice of retailers for £249.
Overall though, for someone working as a media professional (or hobbyists that would like to present themselves to the world and kit themselves out with the type of gear that a media professional would use), both of these products really have that 'yeah, I'm serious about this stuff' kind of feel to them. They're not cheap, but then neither is your voice if you're a real media pro.