From university lab to mainstream Mambu provides cloud ERP system for banks: Fintech interview 28
A project at a US university looking at microfinancing proved to be the spark for software as a service banking platform supplier Mambu.
The company, which was launched in 2010, today describes itself as a cloud based ERP system for banks, which can complete all the customer facing accounting.
"But we offer this with an experience as a service that is like using gmail or Office 365," said CTO Ben Goldin.
After initially targeting microfinancing service providers in developing countries Mambu's main customer base is now made up of challenger banks building a business or large traditional banks launching digital spin-offs. It has customers across the world today, including UK challenger bank OakNorth and Dutch banking giant ABM Amro..
Goldin, who has been at the company since 2017, said co-founders Eugene Danilkis and Frederik Pfisterer were carrying out a computer science project at Carnegie Mellon University in the US and as part of their studies carried out project was focused on microfinancing companies in Madiera, part of Portugal.
After their university project was complete the founders continued to develop the platform, which was cloud based from day one, initially targeting a customer base of companies offering micro financing services in developing countries, in Asia, Latin America, and Africa.
The Mambu cloud based banking platform as a service was designed to enable its components to plug into other providers through Application Programming Interfaces (APIs). Customers can use the Mambu API to access its products via the Amazon Web Services (AWS) cloud
Goldin said the company initially targeted microfinancing in the developing world to give it room to try products out. "The developing world is good for developing a banking product because on the one hand banking products in these countries are sophisticated despite what you may think and at the same time regulation is more relaxed."
He said this was particularly the case when it came to hosting applications in the cloud. "At the time big banks would not think about hosting core business in the cloud but for microfinancing companies this was the best way to do business, as they couldn't usually afford on premise banking systems."
Goldin has worked in financial services technology for over 20 years with experience within traditional banks and suppliers of technology to banks.
Today Mambu works with a variety of financial and non-financial organisations that offer some financial services, such as retailers or telecoms suppliers. There are over 200 instances of Mambu being used globally at over 150 oragnisations.
The bulk of Mambu's customer base is made up of traditional banks creating spin off organisations and new challenger banks. The former includes ABM Amro spin off New10 in the Netherlands and the latter includes banking challengers N26 and OakNorth.
It continues to win customers and grow globally. Nordea backed PFC (Personal Finance Co), a digital challenger bank based in Stockholm recently went live with Mambu. PFC offers a personal finance app with debit card which through automation and data insights encouraged customers to meet financial goals.
In Asia it recently signed up Singapore-based fintech Cheers Paytech as a customer. It will provide the core banking technology to then startup.
Mambu is headquartered in Berlin and currently has about 200 staff worldwide. About half of these are at its main engineering operation is in Romania. It has a small office in London.
While €30m investment was recently been secured going forward Goldin said access to the right staff is one of its challenges. The company needs people to support its work on developing the architecture needed to support larger organisations and faster development, he said.
Read the previous fintech interviews
Part 27 Evolution AI, Part 26 Funding Options, Part 25 FutureBricks, Part 24 Esme, Part 23 The ID Co, Part 22 Currencycloud, Part 21 Tandem, Part 20 Tink, Part 19 Goldex, Part 18 Azimo, Part 17 Yoyo, Part 16 Bud, Part 15 Previse, Part 14 Finastra, Part 13 InstaReM, Part 12 Eucaps, Part 11 AimBrain, Part 10 Meniga, Part 9 TrueLayer, Part 8 InvestCloud, Part 7 ClauseMatch, Part 6 Rebuilding Society, Part 5 Honcho, Part 4 Akoni, Part 3 Wrisk, Part 2 CreditLadder, Part 1 Taina Technology
Content Continues Below

Download this free guide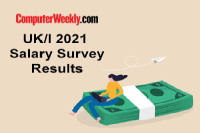 2021 UKI Salary Survey - Pandemic Infographic
We take a look at our 2021 Salary Survey results from over 300 respondents who work in the UKI IT sector. We will be breaking down which job functions get paid what, what areas of IT companies will be investing in in 2021, the current diversity landscape residing in the UK tech sector and how the pandemic has effected IT staff.