Fintech Interview: Part 12 Eucaps
In this interview meet Eucaps, a fintech which is attempting to open up share trading in European SMEs by being the Spotify of the share trading sector.
It wants to offer potential investors in SMEs across Europe access to information about companies listed on 37 SME exchanges in Europe. The information will be presented in English in a way the founder describes as a Spotify experience.
The platform is set to be launched in the first quarter of this year.
It collects data, about companies on SME exchanges, from many social platforms as well as more traditional sources, translates them into English and presents them in one place.
As well as offering investors access to foreign markets it increases the funds available to capital starved SMEs. With about 99% of companies in Europe SMEs, accounting for 60% of GDP and 70% of all employees the SME sector is surprisingly hard to invest in.
I came in contact with Eucaps through Tech Nordic Advocates, the Nordic spin off of tech and entrepreneur network Tech London Advocates.
Henrik Wagenius, founder and CEO, told me about the company's roots, progress so far and targets for the future.
Eucaps was founded in Sweden by Wagenius in 2015, it offers business and individuals from across the world the ability to trade in shares in SME markets across the EU. On day one of Eucaps Wagenius brought Kristof De Buysere on board. Co founder De Buysere has a Phd in European financial law. "He is the brains behind how this works from the regulatory side," said Wagenius.
It is traditionally difficult for businesses to invest in these markets if they are from another country. This exacerbates the problem of a shortage of investment funds in the sector.
While brokers from different countries can access the main markets in Europe, when it comes to smaller SME markets in other European countries they need a local broker.
For example traditionally if a UK company wanted to trade on the Swedish markets it would need a Swedish broker. "If you want to trade on the main market you might be able to do that with your UK broker but if you want to trade on the SME exchanges in Europe you have to get a local broker," said Wagenius.
"Nobody offers access to these European markets so that means the problem of a lack of access to capital for SMEs increases due to a lack of access to trading in these shares," he added.
Wagenius said while the company is not a stockbroker it is positioned as one. "We actually operate in the capacity of an asset manager."
He said the SME markets have been starved of innovation, particularly around the use of tech. "There have been lots of developments in making it easier to invest using technology but it has almost always been on the main market."
Wagenius said the Eucaps is taking some of the existing inventions, adding a bit of the Spotify generation way of looking at things. "There is an ability to track other investors. If you create a portfolio in our system you can put it out as a public portfolio and members can chose to track you," he added.
In terms of initial users he said the business Angles in Europe will probably be the early adopters. He said these investors are usually knowledgeable about certain markets in certain countries and as a result don't invest across Europe. But this could change if it is made easier.
"We collect all the data from the likes of Thomson Reuters, Youtube, Facebook, and Linkedin, and we then combine all that and translate it into English."
"So the view you get of a company when you are on its page is much better than what you have on the main market, where companies put their details in and it doesn't change," added Wagenius. For example through Eurocaps you can see the products, Tweets from the CEO and Youtube videos
There are also tools that enable potential investors to do simple requests, such as credit checks on the owners of the businesses they are considering investing in.
The Eucaps platform will initially translate all information into English from local languages to help businesses follow multiple markets because it is the main business language. "If you look at the millennial generation they all speak English."
But Wagenius said Eucaps could introduce more languages in the future, perhaps German, Spanish and French. "Currently for example if you want to trade on the Polish SME market you basically have to speak Polish," he said.
Wagenius has worked in the finance sector for the last 15 years. He said his previous employer was a fintech before the term existed.
From a tech point of view Eucaps is an integrator rather than an inventor, said Wagenius. "In terms of tech what we have done so far is integrate into existing systems so we are innovative in the way we apply technology but we are not re-inventing the wheel."
"There are 37 of these SME markets throughout Europe so there is a huge job connecting to them all. No single broker offers access to more than two maybe three so we are an integrator of existing systems."
He said Eucaps is focused on innovating around the user experience. Like on Spotify through Eucaps you can create lists, follow lists, and track portfolios
More tech innovation is on its way at Eucaps. The company is currently investigating a partnership or possible acquisition off an artificial intelligence supplier. "This means that we will be able to accumulate and collect news data in real time relating to our traded instruments. We are also hoping to be able to predict price changes, both based on historic data and on analysing news and social media activity."
Read the previous fintech interviews
Part 11 AimBrain ,Part 10 Meniga, Part 9 TrueLayer, Part 8 InvestCloud, Part 7 ClauseMatch, Part 6 Rebuilding Society, Part 5 Honcho, Part 4 Akoni, Part 3 Wrisk, Part 2 CreditLadder, Part 1 Taina Technology
Content Continues Below

Download this free guide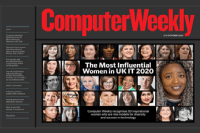 The Most Influential Women in UK Technology 2020
In this week's Computer Weekly, we announce our annual list of the Most Influential Women in UK Technology, and talk to this year's winner, Stemettes CEO and diversity campaigner Anne-Marie Imafidon. Meet our five Rising Stars and the latest entrants to our women in tech Hall of Fame. Read the issue now.