Football's kompromat home
The BBC has started blowing its own vuvuzela about all the new technology it will be using to supplement the upcoming World Cup, including a virtual reality lounge to watch games in on its catchily-named BBC Sport VR – FIFA World Cup Russia 2018 app.

Download this free guide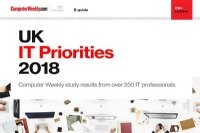 2018 UK IT Priorities survey results
IT organisations in the UK and across Europe are starting to accelerate the move to the cloud. Read more about the key areas in which senior IT managers are planning to invest in over the next 12 months.
This means you get to enjoy the same plush, private-box experience as some Gazprom exec without having to set foot on Russian soil, and seems as good a way as any to achieve the sense of getting one over on these bigwigs with free VIP tickets.
Good luck to them, sat there in silence without an interactive coffee table of stats to refer to, getting increasingly agitated over having the Kremlin on their case should they give in to any hypothetical urges to have a half-time snog with, say, a dangerously attractive McDonald's exec of the same sex.
We'll be watching from home on our nifty new app, enjoying the same fine views as the corporate guests out in Russia with the added freedom to reenact t.A.T.u. music videos at any given VAR-induced dull moment.
One thing sure to unite us plebs watching from home and the execs in private boxes, though, is the knowledge we'll all be having a comfortably better time than the wallies at the top of the makeshift seating in the Ekaterinburg Arena. Someone should definitely have a word with them.